If you are looking for a quick and easy meal or snack, it doesn't get much easier than this Air Fryer Pizza Bagels Recipe. And no, I am not talking about ones that are pre-made and found in the freezer section at the grocery store.
I am referring to the homemade version made from fresh bagels that you probably already have in your pantry. All that you have to do is to split the bagel into two. Then add your favorite pizza sauce, cheese and toppings.
Then put it in your air fryer, and within just a few minutes, they are ready to eat! It is the perfect solution when you are looking for a quick weeknight dinner or snack any time of the day!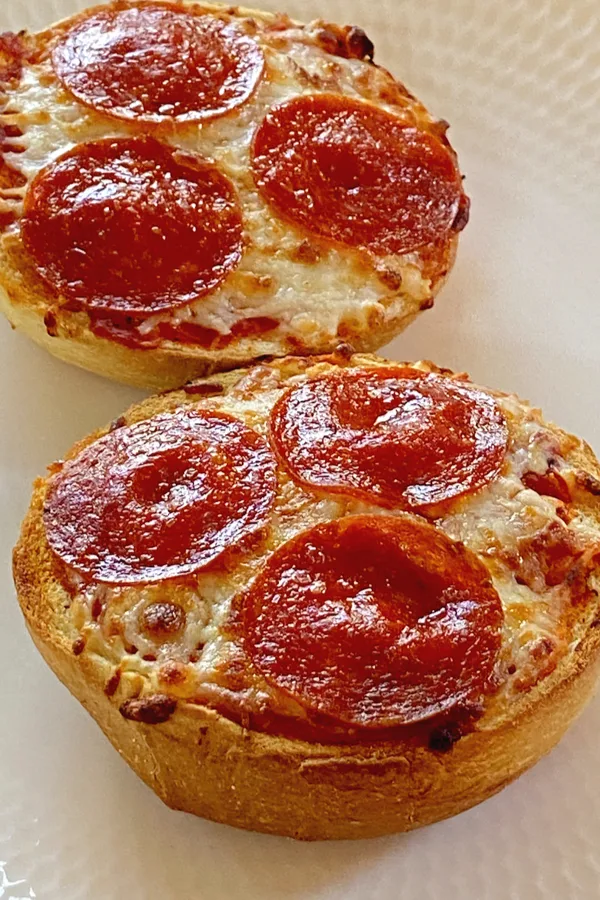 Why Use The Air Fryer To Make Pizza Bagels?
Although I have been making pizza bagels for most of my life, it has been a game changer since I started making them in the air fryer. It is a great way to get a meal on the table without heating up the entire kitchen.
No need to turn on the oven when you can use a smaller, compact air fryer. By the time that you prepare the bagels with the toppings, the air fryer will be preheated and ready.
Another advantage of making them in the air fryer is that they cook much faster than in the oven. The smaller area allows the circulating hot air to melt the cheese perfectly in just 4 minutes!
And clean up is a breeze! Especially if you use parchment paper in the bottom of your air fryer to catch any cheese that might melt during the cooking process.
So the next time that you are wanting to make something to eat in less than 10 minutes, from start to finish, make these pizza bagels in your air fryer!
Air Fryer Pizza Bagels Recipe
*A printable recipe card is located at the bottom of this article which contains the specific measurements, temperatures and cook times. However, continue reading below to learn about more helpful tips about this specific recipe.
INGREDIENTS
2 white or wheat bagels
pizza sauce
shredded mozzarella cheese
pepperoni slices
other pizza toppings of you choice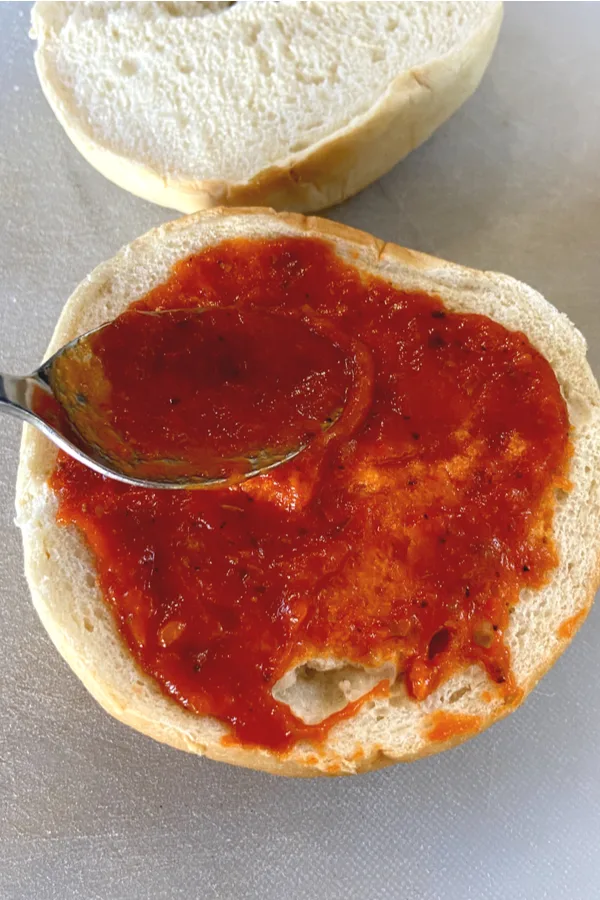 INSTRUCTIONS
1. Preheat the air fryer at 370°F (188°C). If your air fryer doesn't have a preheat setting heat at 370°F (188°C) for 4 minutes
2. Split open the bagels, then spread each half with pizza sauce. The amount will depend on how much sauce that you like on your pizzas.
3. Next, divide and add the shredded cheese on top of each half of a bagel. It is best to prevent the cheese from hanging over the edge.
This will help prevent it from melting and dripping to the bottom of the air fryer when heated. Instead, pile most of the cheese near the center and within 1/4 inch of the edges.
4. Now it is time to add the toppings of your choice. Suggested toppings include any of your favorite pizza toppings that you enjoy on a standard pizza. Pepperoni, sausage, mushrooms, onions, green peppers, are all great examples.
5. Once the pizza bagels are ready, please them into the air fryer basket in a single layer. Depending on the size of your air fryer, you may need to work in batches if necessary.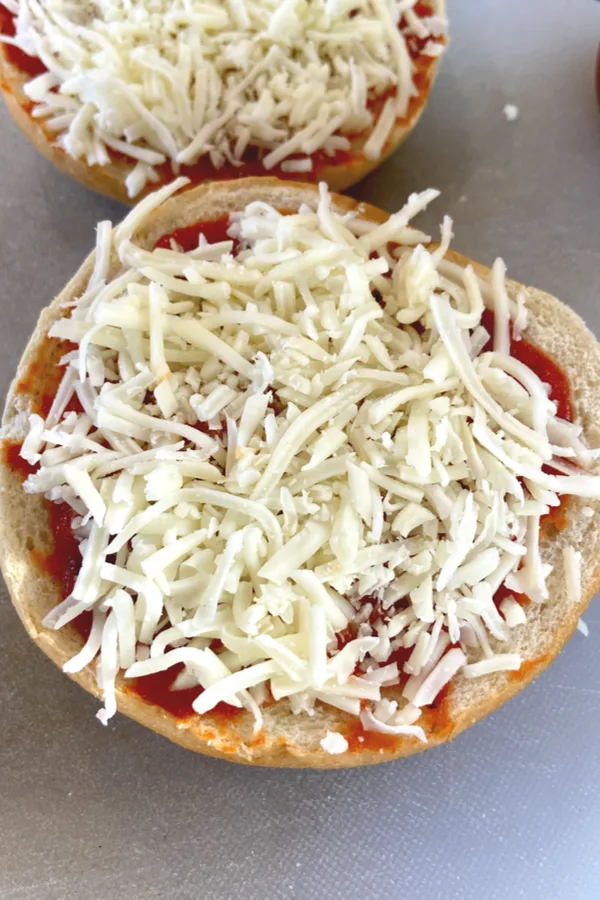 Cook Time Required
6. Air fry at 370°F (188°C) for 3-4 minutes. The bagels are done when the cheese melts and begins to turn light brown in spots.
*Because all air fryers cook at different rates, it may take less or more time than what this specific recipe states. I used my NuWave Air Fryer Oven to cook these bagels and it took them 4 minutes to look like the picture.
However, in my Ninja Foodi Pressure Cooker Air Crisper Combo it took them a little over 3 minutes to cook. Therefore, be sure to keep a close eye on the bagels when you go to cook them for the first time in your specific air fryer.
Helpful Recipe Tips
Want A Crisper Crust?
Because this recipe cooks so fast, the actual bagel will still be somewhat soft when you go to take a bite. This is great for those who like deep dish or a thick pizza crust.
However, for those who want a crispier crust there is one additional step to take. It is best to toast your bagel before adding the pizza sauce and toppings.
Do this by either toasting them in your standard kitchen toaster or toasting them in the air fryer itself.
To toast a bagel in the air fryer place it cut side up in the preheated air fryer set at 370°F. Then toast the bagel for 3 minutes or until it reaches the desired doneness.
Then proceed with the recipe as instructed.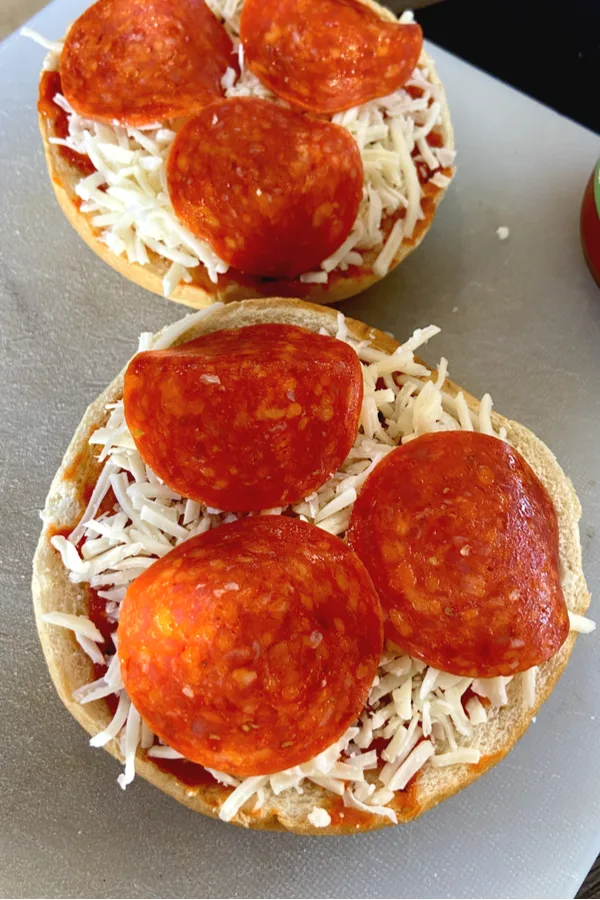 Use Fresh Shredded Cheese For Best Results
As always, in order for the cheese to melt perfectly, it is recommended that you use fresh shredded cheese instead of the shredded cheese that you purchase at the grocery store.
This is because pre-shredded cheese is coated with an anti-caking agent. This is what helps the cheese to not stick together when it is in the package. Although the cheese will still melt when heated, the coating prevents it from melting evenly.
Therefore, it is always best to use cheese that you have grated yourself. Although, I am a realist and if you want to make this recipe quickly and in under 10 minutes, it is perfectly fine to use the bag of store bought Mozzarella cheese!
Customize Each Half of Your Pizza Bagel To Your Own Liking
One of the big advantages of making pizza bagels instead of an entire pizza is that you can switch up the ingredients on each half of a bagel to make them unique.
Have you ever had a hard time deciding what type of pizza to get? Sure you can get pepperoni and sausage on one half of a pizza and leave the other half with mushrooms and cheese.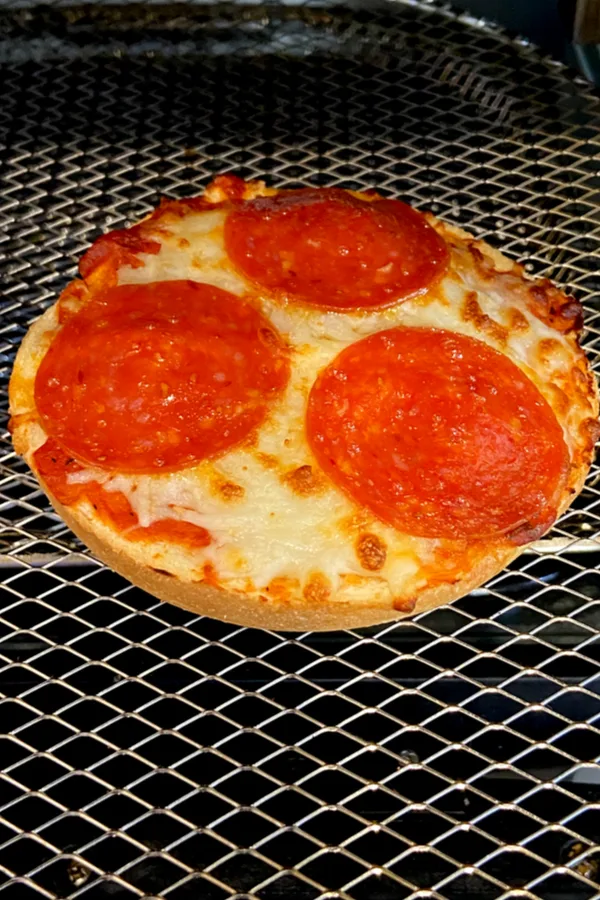 But it is a lot easier to add your toppings on the entire top surface like you can do with the pizza bagels! Not to mention, if you want to switch up the type of sauce that you are using, you can do so without an issue.
For instance, I will make a pepperoni and cheese pizza with standard red pizza sauce. However, on the second half of the bagel I will spread the top surface with barbecue sauce and then add shredded Mozzarella cheese, diced red onion and cooked chicken to make a Barbecue Chicken Pizza.
As you can see, the choices are endless when it comes to making Air Fryer Pizza Bagels!
Other Easy Air Fryer Recipes
If you are looking for more ways to use your air fryer, check out some of my favorite air fryer recipes below.
Snacks/Appetizers
Main Dish
Desserts
Enjoy! Mary

To receive FREE recipes delivered directly to your email, be sure to sign up for the iCookfortwo newsletter. A sign up form is located in the middle of this article. If you have any questions, comments, or want to submit an idea for a recipe for two, feel free to email at mary@icookfortwo.com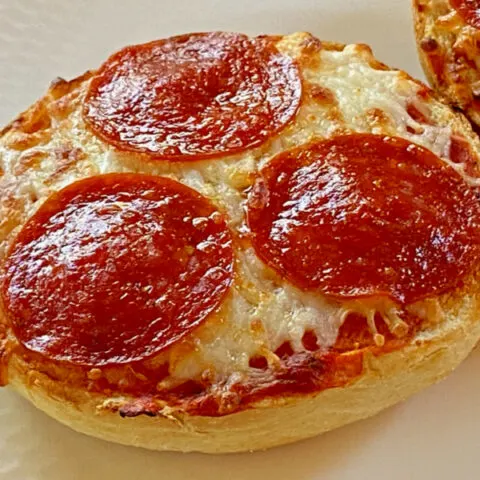 Air Fryer Homemade Pizza Bagels
Homemade pizza bagels cooked in an air fryer. Customize each one with your favorite toppings for a meal that can be ready to eat in under 10 minutes!
Ingredients
2 bagels
½ Cup pizza sauce
½ Cup shredded mozzarella cheese
½ Cup pepperoni slices
Instructions
Preheat the air fryer at 370°F (188°C). If your air fryer doesn't have a preheat setting heat at 370°F (188°C) for 4 minutes

Split open the bagels, then spread each half with pizza sauce.

Add the shredded cheese, then add the pepperoni.

Place the bagels into the air fryer basket in a single layer, working in batches if necessary.

Cook at 370°F (188°C) for 3-4 minutes until the bagels are hot and the cheese has melted and beginning to turn light brown in spots.
Notes
Add whatever toppings that you prefer.
If you want appetizer size pizza bagels, purchase the mini bagels. Cook time will remain the same.
If you prefer a crispier crust, toast the bagels prior to assembling the pizza toppings.
Recipe provided by iCookfortwo.com
Nutrition Information
Yield

4
Serving Size

1/2 bagel
Amount Per Serving
Calories

275
Total Fat

11g
Saturated Fat

5g
Trans Fat

0g
Unsaturated Fat

6g
Cholesterol

24mg
Sodium

677mg
Carbohydrates

31g
Fiber

1g
Sugar

6g
Protein

12g
Nutritional Information is to be used as a general guideline only . Nutritional calculations will vary from the types and brands of the products used.