Overnight oats are a healthy and convenient breakfast meal or snack that requires absolutely no cooking. It's a great breakfast choice that you can prepare ahead of time which will save you a ton of time in the morning.
However, oatmeal alone isn't the most attractive breakfast option. Therefore, you may think about skipping them in the morning and choose something more appealing.
However there are possible variations to change them up every day to keep this healthy breakfast choice interesting and delicious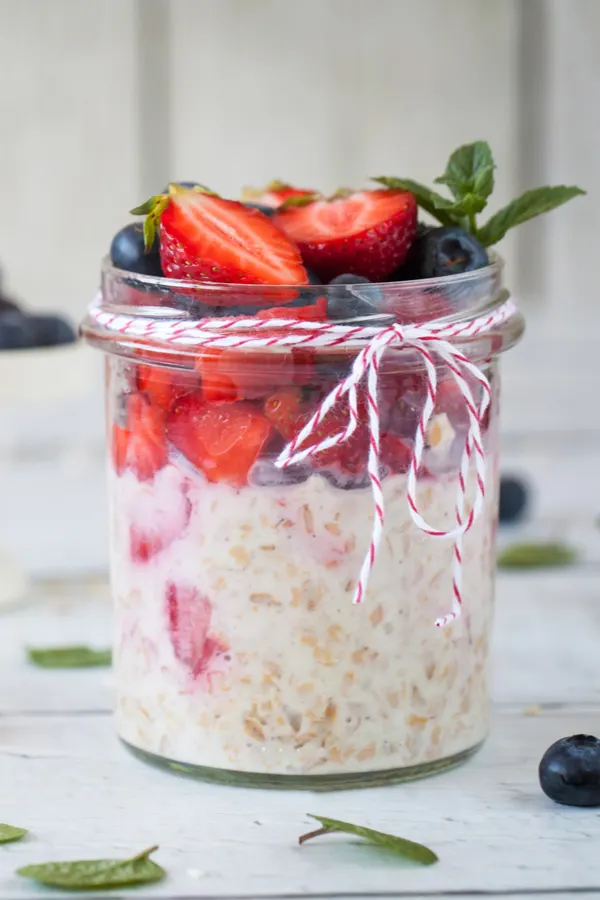 To make it to your own liking, you can choose a variety of add-ins and toppings! For instance you can incorporate dried fruit, almonds, seeds, grated pear, apple or diced tropical fruits for an interesting and still nutritious meal.
What are Overnight Oats?
If you haven't tasted overnight oatmeal, it's essentially a no-cook oatmeal recipe. You soak the raw oats in milk instead of heating them in liquid on the microwave, stovetop or Instant Pot.
Because of the soaking procedure, the oats absorb the fluid and become soft enough to consume raw. However, you need to soak the oats for at least a few hours and keep them in the refrigerator before eating.
However, soaking them overnight is ideal. And this is how they became known as an overnight breakfast meal.
The following morning you'll have a wonderful, creamy jar or bowl of "oatmeal" ready to eat. The texture will be actually be more similar to pudding or porridge rather than cooked oats.
And for me, that is important! Although I use this Oatmeal Recipe, I still am not a fan of the texture of hot oatmeal.
However I have no trouble with the texture of the overnight version, and actually enjoy eating it for breakfast! It's a quick and easy breakfast option that's more rich and creamy than standard cooked oatmeal.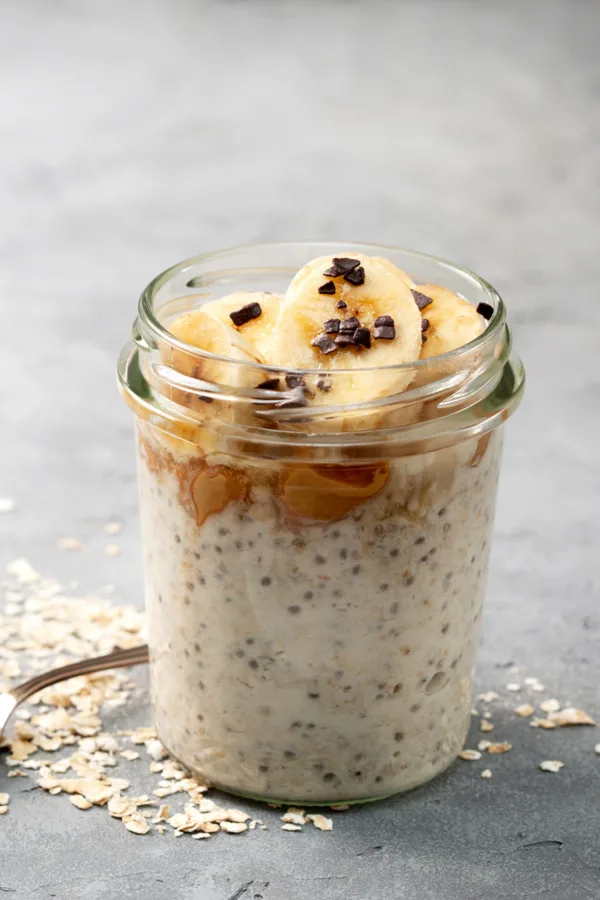 The best part is that you get all the health advantages of oats in a convenient grab-and-go breakfast:
They contain a good amount of protein when compared to other grains.
They're high in fiber, which keeps you feeling fuller for longer.
They save money and time. When eating healthily on a budget, oatmeal is among the most acceptable options. Best of all, they are prepared in about 5 minutes!
How to Make Overnight Oats
INGREDIENTS
1. Oats
Clearly, you will need oats to prepare the overnight oatmeal! Although one can use quick cook or steel-cut oats to create overnight oatmeal, rolled or old-fashioned oats produce the most outstanding results.
If you need to avoid gluten, look for verified gluten-free oats that aren't processed in a factory with other gluten products.
2. Chia seeds
Chia seeds are high in nutrients and contribute to the porridge-like texture of oats. As a result, they are a key ingredient in this recipe.
Although you can make overnight oatmeal with just milk and oatmeal, the chia seeds make the finished dish more luscious and creamy.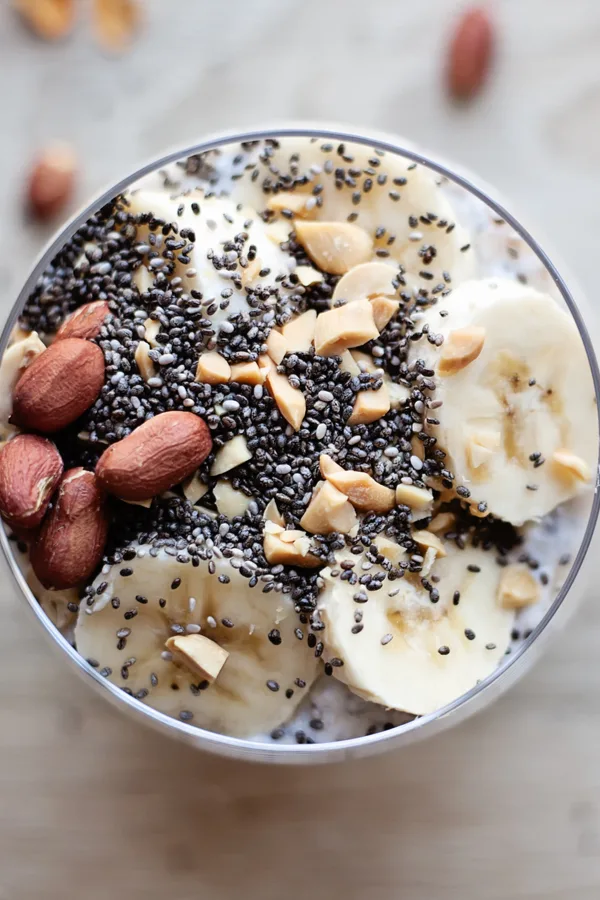 3. Salt
Adding a pinch of salt really enhances the flavor of the other ingredients. However, if you are worried about your sodium intake, the salt can be omitted.
4. Milk
You can use whatever variety of milk that you enjoy. Whole milk, 2% or skim milk can be used. Although plain, unsweetened, dairy-free milk, such as almond, cashew, or oat milk, can also be used.
And if you are fresh out of milk you can even use water in a pinch. The choice is up to you!
5. Greek Yogurt
The thickness of the yogurt makes the oats even more creamy and smooth. However, if you have to avoid dairy products, you can substitute a non-dairy yogurt instead.
6. Nut Butter
If you want to add a little extra protein to your overnight oats, add in your preferred all-natural nut butter. I prefer to use almond butter, but you could use peanut butter or cashew butter as well.
Toppings
This is where the variety happens. You can use fresh fruit, additional nut butter, dried fruit, nuts, spices, and seeds to your heart's content. There are several other topping options and combinations, which we believe is what makes the recipe so adaptable!
Optional Ingredients
1. Vanilla extract (optional)
Pure vanilla extra adds a little flavor and brings out some of the aromas in your overnight oatmeal. In addition, it adds a touch of sweetness without adding sugar.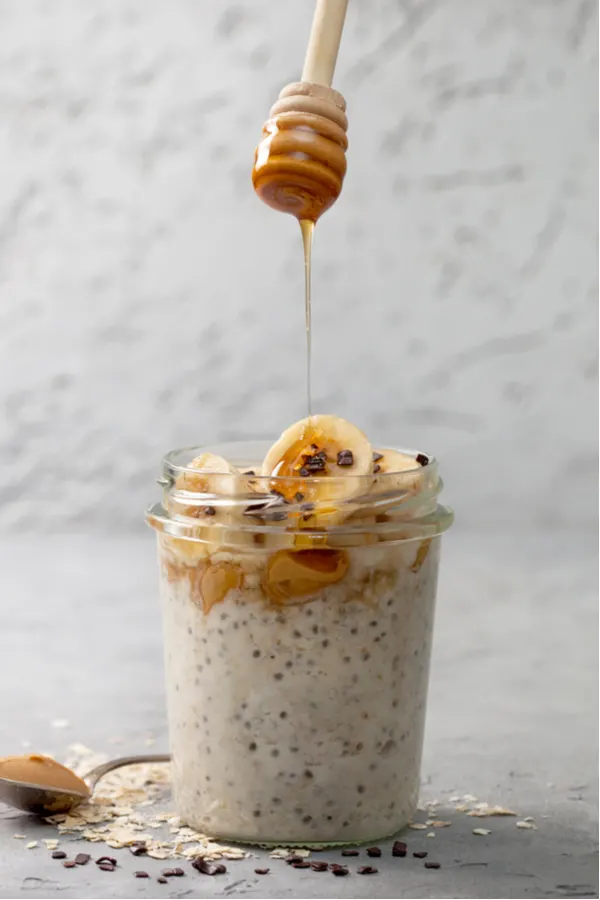 2. Sweetener (optional)
Overnight oatmeal is sweet enough on its own, but you could pour some sweeteners on top of the oats to make them more attractive and delicious. However, don't use granulated sugar or brown sugar to sweeten the oatmeal. Instead, keep things a little more natural and sweeten it with maple syrup or honey.
INSTRUCTIONS
Below are the instructions on how to make a single serving in a mason jar. You can make several individual servings and keep them in the refrigerator for an easy, on the go breakfast in the morning.
Combine the oats, chia seeds, milk, salt, and yogurt, and stir well. If you are adding nut butter, vanilla extract or sweetener, stir them in now.
Cover the jar(s) and then place in the refrigerator for at least 2 hours, preferably overnight, to allow the oats to soak.
Stir the contents and then top your overnight oats with your favorite toppings.
3 Delicious Combinations
When go to make your oats, think about these flavor variations that will transition boring oatmeal into something spectacular:
Banana Nutella: The title says it all! Banana and Nutella make a great flavor combination, and one that kids love! The combination creates a rich, luscious flavor that makes one feel like you are eating dessert rather than a healthy breakfast. However, to take it over the edge, consider adding chocolate chips and chopped hazelnuts as well!
Apple Pie: This combination creates a terrific fall overnight oat recipe that offers a warm fresh flavor and delicious crunch from the nuts and fruit. It is the perfect blend of ground cinnamon, chopped apples, maple syrup, and pecans.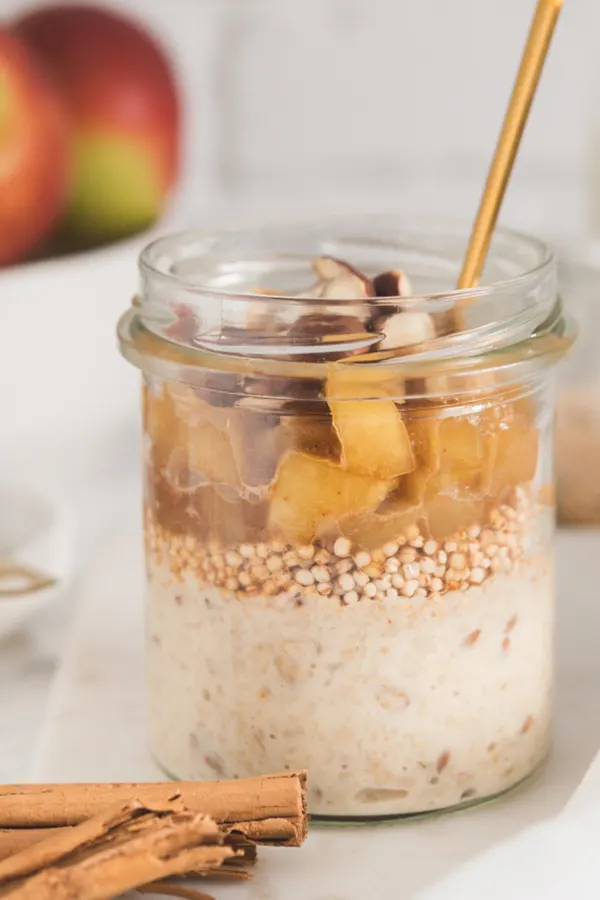 Almond joy: Here is an easy recipe that is a spin-off of the famous chocolate bar. Shredded coconut, mini chocolate chips, crushed almonds, and maple syrup are the additions that will give bring you back to your childhood candy days!
I am sure there are a several different topping combinations that you can think of to make these oats your favorite! Here, innovation is the game-changer. So go ahead and try anything that your heart wishes.
Overnight Oats: Tips for Success
After combining your ingredients, you should swirl the mixture several times to completely submerge the oats in the milk. Cover and chill overnight to soften the oats and blend the flavors.
Remember that overnight oats are best served cold, straight from your fridge. That makes them ideal for a quick and easy breakfast on the go.
You can store them for up to 5 days in the fridge. So in order to meal prep, make your oats on a Sunday night, then you'll be good to go for the rest of the week.
Be sure to use old-fashioned rolled oats and not quick oats. The taste and texture will not be the same and you may be disappointed with the results if you use quick or steel cut oats.
To get super creamy oats, be sure to soak them at least for 4 hours to achieve that extra creamy texture, but preferably overnight.
When you add nuts, be sure to mix them in right before serving so they don't get soggy.
To make easy overnight oatmeal, adjust the ingredients to your liking. Overnight oats, despite what people think, contain various health benefits and can help you lose weight.
Use your imagination! The possibilities for mixing and matching are unlimited.
For other delicious breakfast recipes, be sure to visit the Breakfast Recipe Page located under the Recipe Index tab at the top of this article. No, they aren't all healthy, but they are absolutely delicious!
Enjoy! Mary

To receive FREE recipes delivered directly to your email, be sure to sign up for the iCookfortwo newsletter. A sign up form is located in the middle of this article. If you have any questions, comments, or want to submit an idea for a recipe for two, feel free to email at mary@icookfortwo.com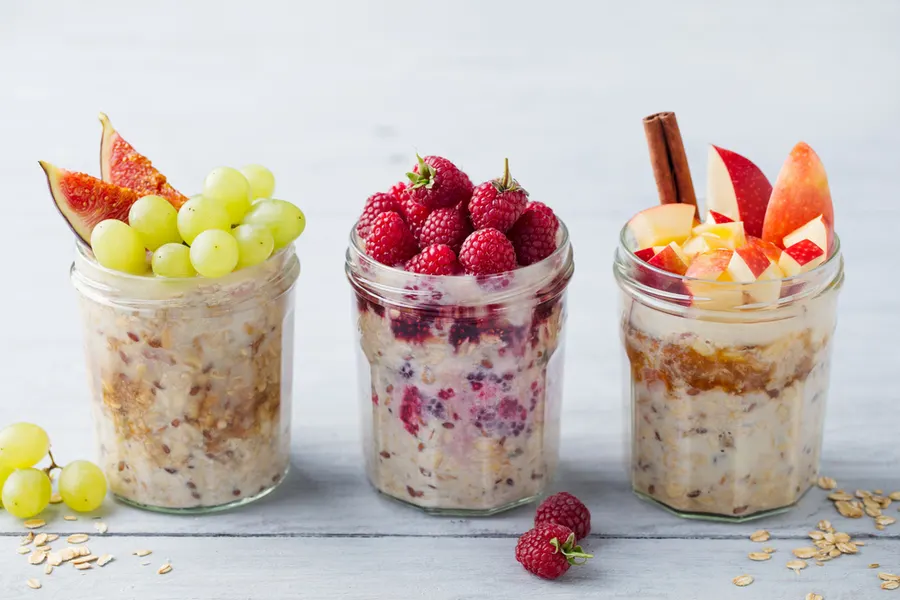 Easy Overnight Oats Recipe
Total Time:
2 hours
5 minutes
Easy, overnight oats recipe that can be customized by your favorite toppings!
Ingredients
⅓ cup milk
¼ cup rolled oats
1 pinch of salt
¼ cup Greek yogurt
2 teaspoons chia seeds
Optional Ingredients
1-2 tablespoons nut butter
2 teaspoons honey or maple syrup
1 teaspoon cinnamon
1/2 teaspoon vanilla extract
Suggested toppings
nuts
dried fruit
fresh fruit
seeds
Instructions
Combine the oats, chia seeds, milk, salt, and yogurt, and stir well. If you are adding nut butter, vanilla extract or sweetener, stir them in now.
Cover the jar(s) and then place in the refrigerator for at least 2 hours, preferably overnight, to allow the oats to soak.
Stir the contents and then top your overnight oats with your favorite toppings.
Notes
Recipe provided by iCookfortwo.com
Nutrition Information
Yield

1
Amount Per Serving
Calories

190
Total Fat

6g
Saturated Fat

2g
Trans Fat

0g
Unsaturated Fat

3g
Cholesterol

9mg
Sodium

193mg
Carbohydrates

23g
Fiber

5g
Sugar

6g
Protein

12g
Nutritional Information is to be used as a general guideline only . Nutritional calculations will vary from the types and brands of the products used. Nutritional content does not include Optional Topping ingredients