If you have never tried a peanut butter bacon burger, you are missing out on one of the most surprisingly delicious hamburgers that you will ever try. A homemade burger topped with cheddar cheese, peanut butter and bacon.
It may sound crazy but the flavors all compliment each other perfectly and will give you a burst of flavor in every bite. First, the sweetness of the peanut butter pairs perfectly with the saltiness of the bacon.
Then throw them on top of a perfectly cooked burger with some cheese, lettuce, tomato and onion, and you will have a burger that you will want to make over and over again.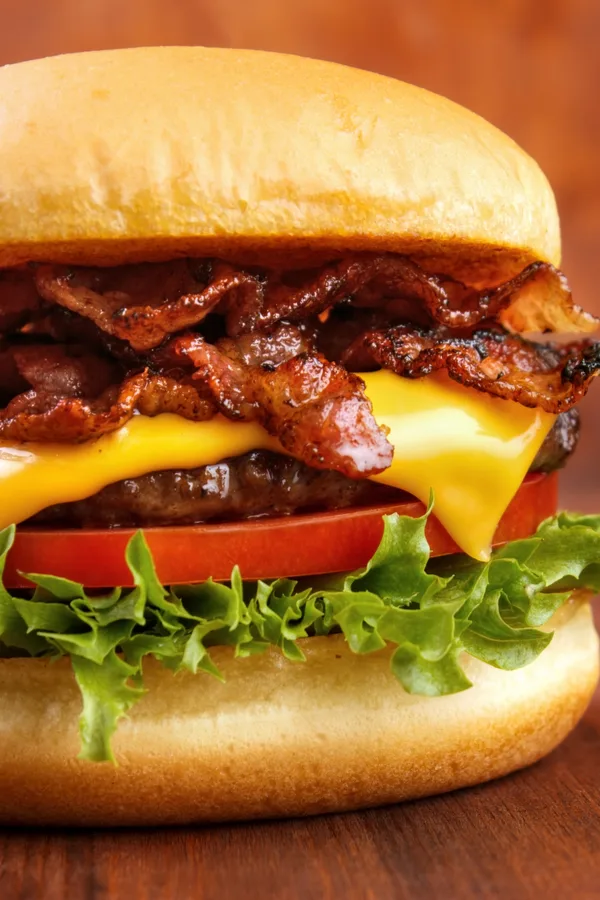 However, I am not sure why it has taken me so long to make this recipe. For decades I have been eating peanut butter and bacon toast in the morning.
In fact, I ate it so much that when I used to work in the hospital every morning I would head to the cafeteria and the staff would already have my order ready.
There is just something about the saltiness of the bacon and the sweetness of the peanut butter that made me crave it every morning. However, as time passed, and I no longer had the convenience of a hospital cafeteria, this special breakfast treat was rarely made.
Although, when I went to a local restaurant and they had a Peanut Butter Bacon Burger on the menu, I knew that I had to give it a try. And the memories came flowing back!
With just one bite, I knew that I had found something special. And that is when I decided that this would become a regular rotation for burger night at home!
Peanut Butter Bacon Burger
*A printable recipe card is located at the bottom of this article which contains the specific measurements, temperatures and cook times. However, continue reading below to learn about more helpful tips about this specific recipe.
INGREDIENTS
3/4 pound ground beef
1/2 teaspoon salt
1/2 teaspoon pepper
4 slices of sharp Cheddar cheese
1/3 cup creamy Peanut Butter
4 slices bacon
2 hamburger buns, Brioche or Pretzel Buns preferred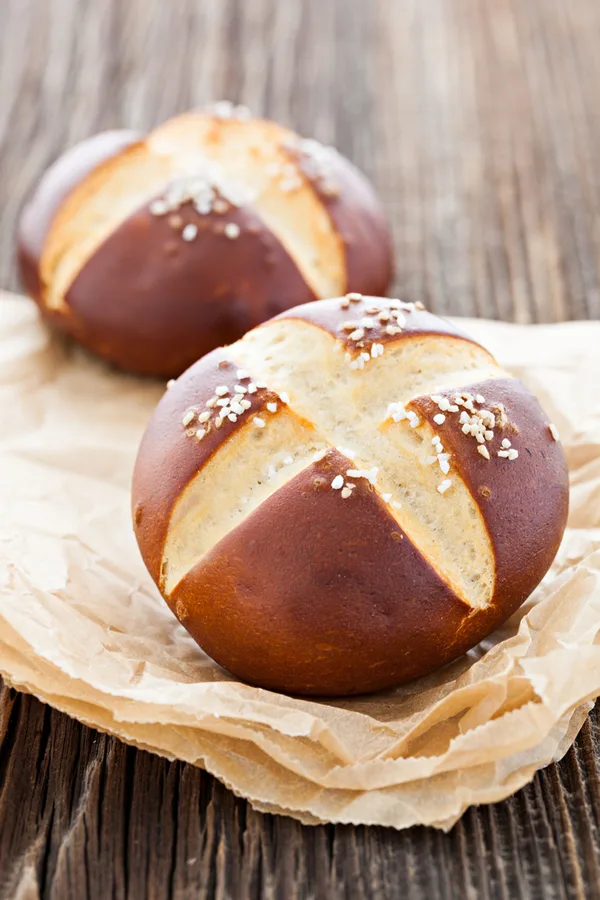 INSTRUCTIONS
The first step is to prepare the burgers themselves. When making homemade hamburgers I prefer to use 80/20 ground beef.
This means that the beef has a ratio of being 80% lean and 20% fat. And it is the fat that makes the burgers taste so delicious when they cook.
Because the fat will burn off during the cooking process, I recommend using 3/4th of a pound of meat. If you use a half a pound, the peanut butter bacon burgers will be rather small.
And this is not the time to have thin burgers! Instead, use a little more meat to make your two patties.
Make The Burgers
In large bowl add the ground beef, salt and pepper. Mix gently, just until the salt and pepper become incorporated.
Be sure not to mix the ground beef too much. Over working the beef will result in dense burgers.
Instead, use a fork to combine the meat with the spices. Then use your hands to divide the meat in two even sections.
Form each section into a hamburger patty. Be sure to indent the middle of the burger so that when it is grilled, it doesn't have a dome shape.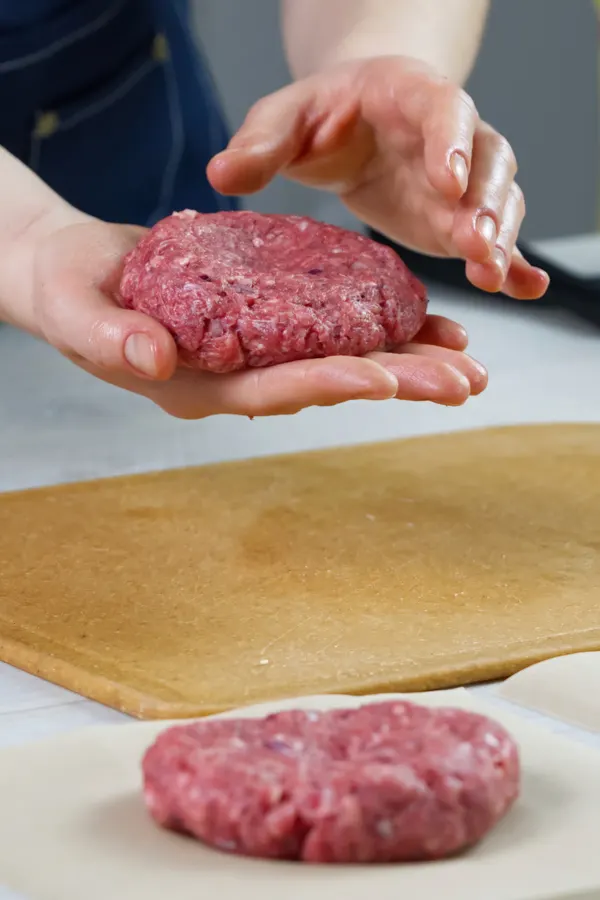 Grilling Instructions
Preheat the grill over medium-high heat. Place each burger directly over the heat source and let it cook for 4 minutes.
Do not flip it, touch it, or even look at it. Okay, that may sound a bit harsh, but the point is that the burger needs to cook on the first side for longer than you think.
This will allow the fat in the meat to start to render down. After they have been on the grill for 4 minutes, carefully place a thin metal spatula under the meat.
If it moves or lifts easily, it is time to flip the burgers. On the contrary, if the meat is sticking to the grates, let it continue to cook.
Once you flip the patties, continue to cook until the internal temperature is at the desired doneness. It is best to use an Instant Read Digital Thermometer to ensure that your Peanut Butter Bacon Burgers are cooked to your liking.
Internal Temperature Recommendation For Doneness
Rare – 125°F (52°C)
Medium Rare – 135°F (57°C)
Medium – 145°F (63°C)
Medium Well – 150°F (66°C)
Well Done – 160°F (71°C)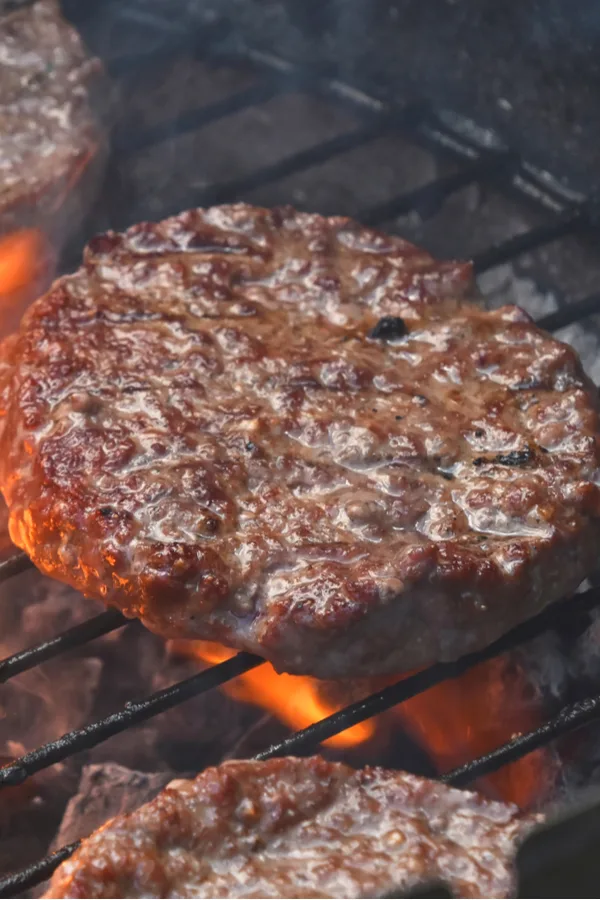 Once the burgers are within a couple of degrees of being done, top each one with 2 slices cheese. Again, you could only put one piece of cheese on, but you want to get the most flavor out of the burgers as you can.
Once the cheese is melted, remove the burgers from the heat and place them on a platter to rest.
While the burgers rest, grill your buns. Then prepare the peanut butter for spreading.
Do this by placing the peanut butter in a microwave safe bowl. Then heat for 30 seconds on high power and stir.
Now it is time to assemble the Peanut Butter Bacon Burgers.
Assemble The Peanut Butter Bacon Burgers
If you are using lettuce, place the lettuce on the bottom bun. This will help prevent the bun from becoming soggy from the hamburger patty.
Then place the cooked burgers on top of the lettuce, if using, or directly on the bottom halves of buns. Then generously spread the warm peanut butter on top of each patty.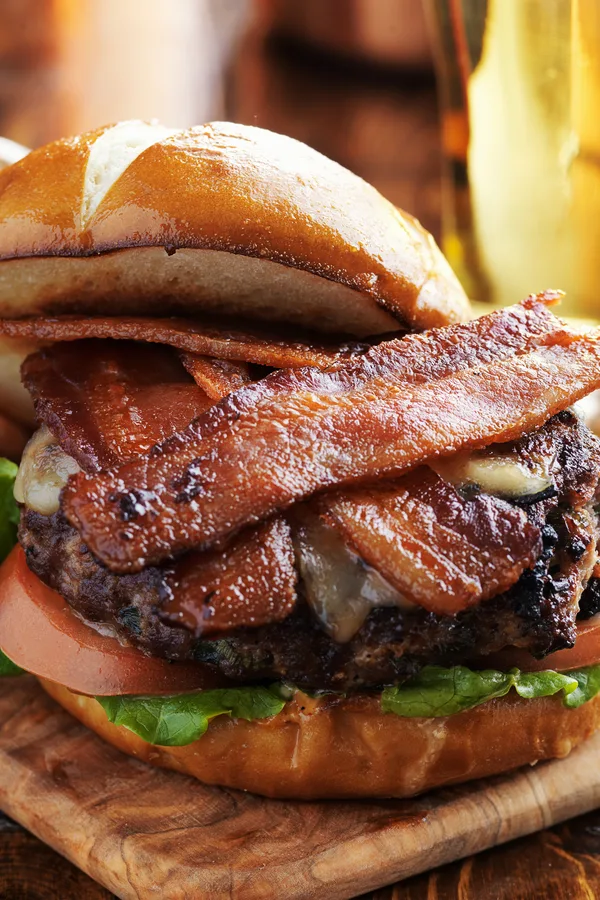 Top each one with 2 slices of precooked bacon. Then add whatever other toppings that you desire.
I add onion, tomatoes and pickles slices to my burger. However, add whatever you prefer. Cover the burgers with the top buns and sink your teeth into the best burger that you have ever had!
If you find yourself with leftover bacon, be sure to make Bacon Wrapped Pork Tenderloin. It is a delicious, easy and budget friendly meal that I am sure you will enjoy as much as I do!
Enjoy! Mary

To receive FREE recipes delivered directly to your email, be sure to sign up for the iCookfortwo newsletter. A sign up form is located in the middle of this article. If you have any questions, comments, or want to submit an idea for a recipe for two, feel free to email at mary@icookfortwo.com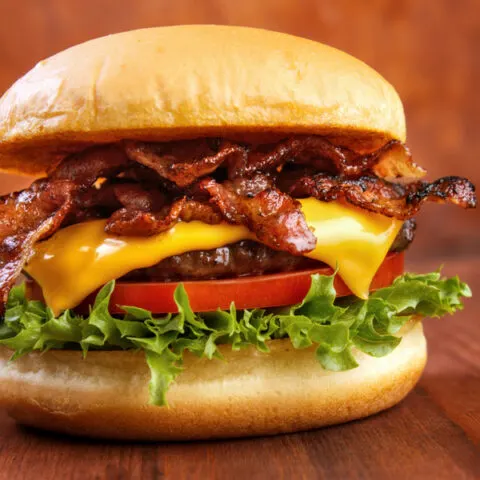 Peanut Butter Bacon Burger
A surprisingly delicious twist on a classic hamburger with the addition of peanut butter and bacon. You have to try it to believe how good it is!
Ingredients
1/2 - 3/4 pound ground beef
1/2 teaspoon salt
1/2 teaspoon pepper
4 slices of sharp Cheddar cheese
1/3 cup creamy Peanut Butter
4 slices bacon
2 hamburger buns, Brioche or Pretzel Buns preferred
Instructions
Prepare grill for medium-high heat.
In large bowl, combine beef, salt and pepper; mix gently.
Form beef into 2 patties; grill until desired doneness.
Top each burger with 2 slices cheese, if desired.
In microwave-safe bowl, microwave peanut butter 30 seconds.
Place patties on bottom halves of buns.
Generously spread warm peanut butter on each patty.
Top with 2 to 4 slices bacon; cover with top halves of buns.
Notes
Recipe provided by iCookfortwo.com
Nutrition Information
Yield

2
Amount Per Serving
Calories

1347
Total Fat

84g
Saturated Fat

32g
Trans Fat

2g
Unsaturated Fat

41g
Cholesterol

279mg
Sodium

4041mg
Carbohydrates

64g
Fiber

5g
Sugar

10g
Protein

84g