This Bacon Wrapped Barbecue Chicken recipe is one of my favorite grilling recipes of all time! Chunks of chicken breasts that are coated in barbecue sauce and then wrapped in bacon.
Once they are finished cooking, they are coated in more barbecue sauce and then served as a main dish or appetizer. However, don't worry, if you don't want to grill them, they can also be made in your oven.
It is a low-carb, Keto friendly recipe that I turn to time and time again. Not because of the low carbs, but because the combination of chicken, bacon and barbecue sauce is absolutely delicious!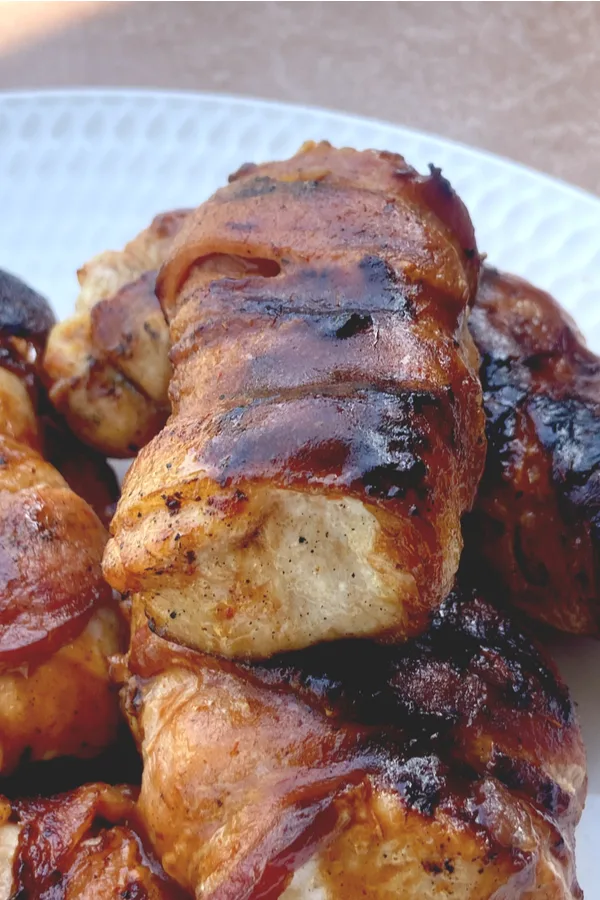 However, just like many of my iCookfortwo recipes, this one was born out of necessity. I had purchased a family pack of chicken breasts to make Pizza Stuffed Chicken Breasts.
Then I also made French Onion Chicken with two more chicken breasts. However, that left me with a single piece of chicken that I had to either use or freeze for later.
Chicken + Bacon + Barbecue Sauce
As I was contemplating what I could make, I opened the refrigerator door and saw a package of bacon that had a few strips remaining. And that was the inspiration for making this recipe!
I knew that I had to use both of those ingredients before they expired. And what better way to use them than by making a simple recipe by wrapping bacon around the chicken.
And for the flavoring, it seemed natural to add barbecue sauce. It is grilling season after all!
Although, I have to admit, I was a little skeptical on how the cooking process would turn out. I was worried that the bacon would cook much faster than the chicken.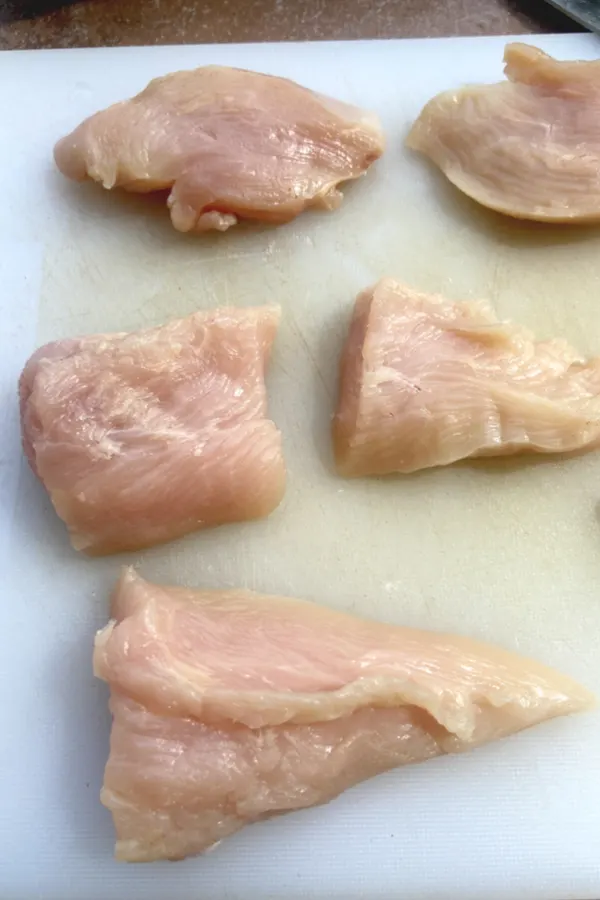 Therefore, instead of wrapping an entire chicken breast in bacon, I decided to cut the chicken into smaller chunks. Then each piece of chicken would be wrapped in a single piece of bacon.
They cooked up beautifully! Crispy bacon on the outside and tender and juicy chicken on the inside. Add your favorite flavor of barbecue sauce and you have yourself a delicious low-carb dinner or appetizer!
Bacon Wrapped Barbecue Chicken Recipe
*A printable recipe card is located at the bottom of this article which contains the specific measurements, temperatures and cook times. However, continue reading below to learn about more helpful tips about this specific recipe.
INGREDIENTS
1 large Chicken Breast
6 slices of uncooked Bacon, regular thickness
1/4 cup of your favorite BBQ sauce
Optional Ingredient
1 tablespoon BBQ seasoning
INSTRUCTIONS
The first step in making Bacon Wrapped Barbecue Chicken is to prepare the chicken. Do this by cutting one large chicken breast into into 6 even chunks.
You want both the size and thickness to be as similar as you can. Once the chicken is cut, brush both sides of the chicken pieces with your favorite barbecue sauce.
However, if your goal is to keep this recipe low-carb and Keto friendly, be sure to use a sugar-free or low-carb barbecue sauce. Most store-bought barbecue sauce contains a high amount of sugar.
Instead, buy one that is sugar-free. Two of my favorite brands are G. Hughes and Yo Mama's. They both are sugar free and are have a low carbohydrate content.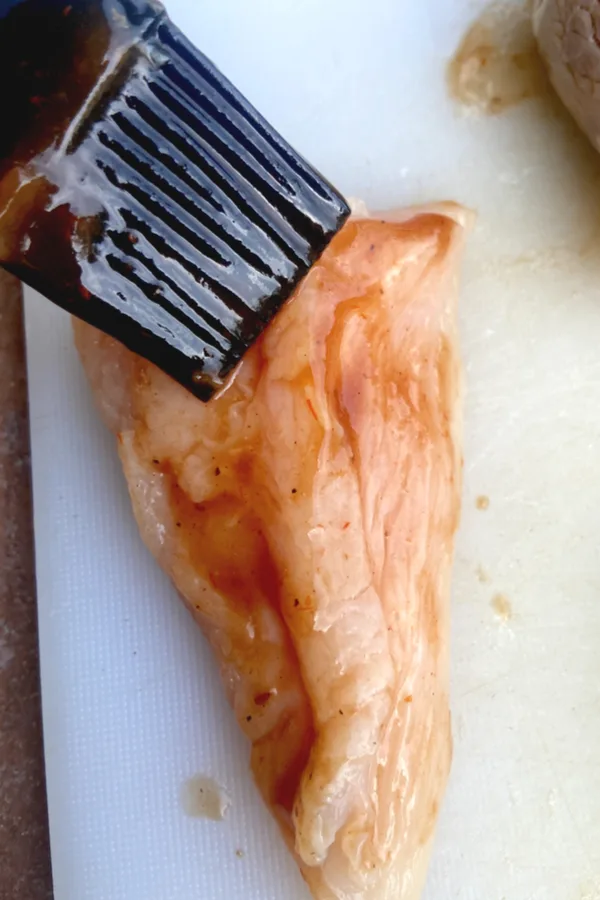 However, another alternative is to use a dry rub BBQ seasoning. But again, many of those seasonings have brown sugar as one of the ingredients.
Therefore, if you want a delicious dry rub without sugar, make your own with this simple recipe:
Dry Rub BBQ Seasoning Recipe
1 1/2 teaspoons Chili Powder
1 teaspoon each: Salt, Pepper, Smoked Paprika & Garlic Powder
1/2 teaspoon Onion Powder
1/2 teaspoon Cayenne Powder (optional)
Simply mix the ingredients together and your dry rub is ready!
Once the chicken pieces are coated, wrap each one in a single piece of bacon. As you finish wrapping, tuck the end under the bacon.
You could use a toothpick to secure the end of the bacon, however, if tucked properly it will not unravel during the cooking process. Set the chicken aside while you prepare the grill.
Heat a gas or charcoal grill over medium-high heat. Once the grill is nice and hot, place the bacon wrapped barbecue chicken directly on the grates, over direct heat.
Grill the chicken until the bacon is crisp and chicken has reached an internal temperature of 160ºF when checked with an instant read digital thermometer. Be sure to flip several times to prevent the bacon from burning.
Depending on the size of your chicken pieces, it will take approximately 10-15 minutes to cook to temperature. During the last couple of minutes of cooking, brush the chicken on both sides with your favorite barbecue sauce.
Let the chicken finish cooking to temperature and then remove from grill. Let it rest for 5 minutes before serving.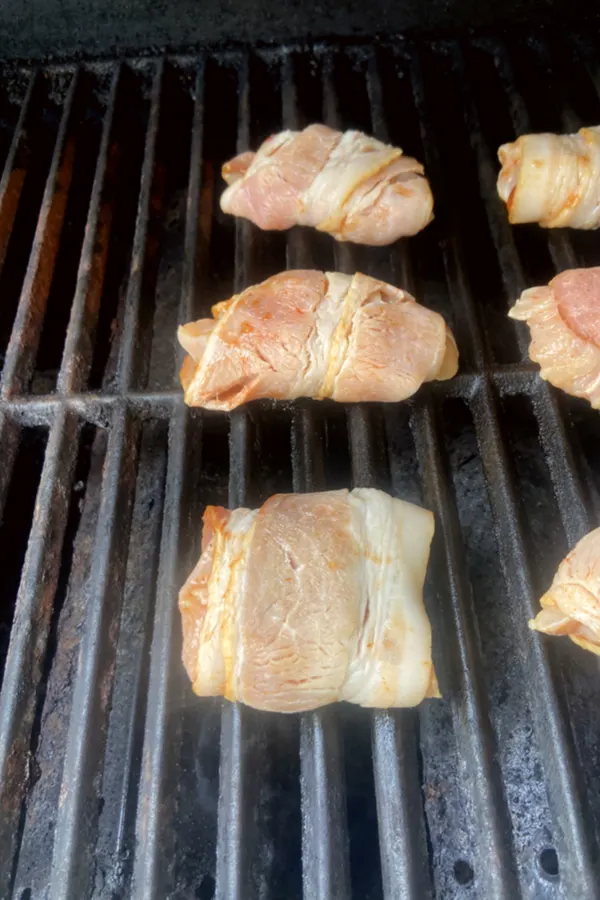 Frequently Asked Questions
1. Can I make this recipe ahead of time?
One of the best parts about this recipe is that you can prepare the chicken ahead of time. Follow the instructions for wrapping the chicken in bacon and then place in closed container for up to 24 hours before grilling.
You can also assemble and freeze the bacon wrapped barbecue chicken in an air-tight container for up to a month.
Then when you are ready to cook the chicken, remove it from the refrigerator and let it come to room temperature. If you are grilling from frozen, you must thaw out the chicken completely before grilling.
2. How do I make this recipe in the oven, and not on the grill?
If you would like to cook the chicken in the oven, prepare the chicken per the instructions in the recipe. Then preheat the oven to 375°F(190°C) and place foil on a rimmed baking sheet.
Top the baking sheet with a metal cooking rack and place the chicken on the rack. Bake for 20 minutes, or until the internal temperature reaches 165°F, flipping half way through the cook time. During the last few minutes of baking, brush both sides with the barbecue sauce.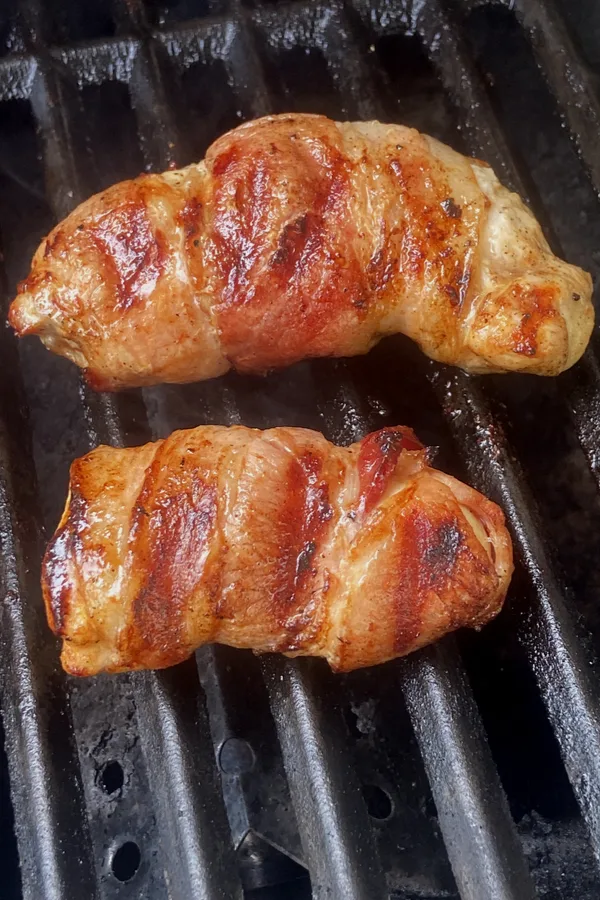 3. What side dishes go well with this recipe?
If you aren't worried about carbs, you can serve just about any side dish with the chicken. Some of my favorites include Grilled Vegetables, Barbecue Mac & Cheese, Grilled Potato Packs, Instant Pot Rice and Air Fryer Green Beans or Asparagus.
4. What are some other low-carb recipes that I can make?
Here are some of my favorite iCookfortwo low-carb recipes:
Enjoy! Mary

To receive FREE recipes delivered directly to your email, be sure to sign up for the iCookfortwo newsletter. A sign up form is located in the middle of this article. If you have any questions, comments, or want to submit an idea for a recipe for two, feel free to email at mary@icookfortwo.com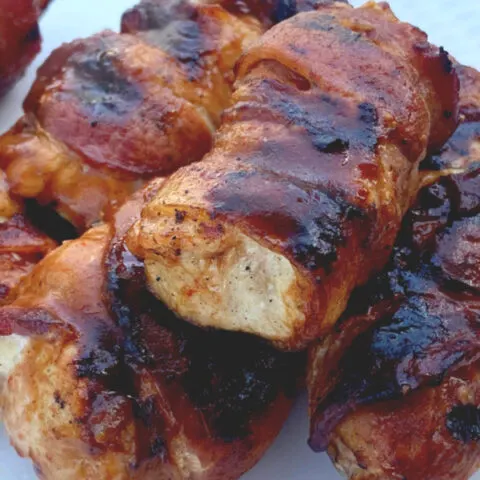 Bacon Wrapped Barbecue Chicken Recipe
Chicken breast cut into chunks and then wrapped in bacon and coated with barbecue sauce. An easy, low-carb dinner that can be served on a special occasion or on a busy weeknight!
Ingredients
1 large chicken breast
6 slices of uncooked bacon, regular thickness
1/4 cup BBQ sauce
Instructions
Cut the chicken into 6 even chunks.
Brush both sides of the chicken pieces with barbecue sauce (or use dry BBQ seasoning).
Wrap each coated chicken piece with one slice of bacon, tucking the ends. Secure bacon with toothpicks if desired.
Heat grill on medium-high heat. Then place the bacon wrapped chicken directly on the grates. Cook chicken until bacon is crisp and chicken has reached an internal temperature of 165ºF, approximately 10-15 minutes.
Brush the chicken on both sides with BBQ sauce. Let it sit for 1-2 minutes and then remove from grill.
Notes
Recipe provided by iCookfortwo.com
Nutrition Information
Yield

3
Amount Per Serving
Calories

340
Total Fat

24g
Saturated Fat

8g
Trans Fat

0g
Unsaturated Fat

14g
Cholesterol

71mg
Sodium

642mg
Carbohydrates

10g
Fiber

0g
Sugar

8g
Protein

20g