When it comes to making Thanksgiving dinner, even when cooking for two, cranberry sauce is an essential dish to have on our dinner table. We use it as both a side dish and a sauce to drizzle over slices of fresh baked turkey breast.
And luckily, this time of the year it is easy to find fresh cranberries in the produce section of the grocery store. Commercially sealed plastic bags are filled with fresh cranberries and located in the non-refrigerated produce section.
It is a budget friendly recipe that is super easy to make. In fact, with just 4 other ingredients (in addition to a little water), you can have the most delicious cranberry sauce that you have ever had on your table.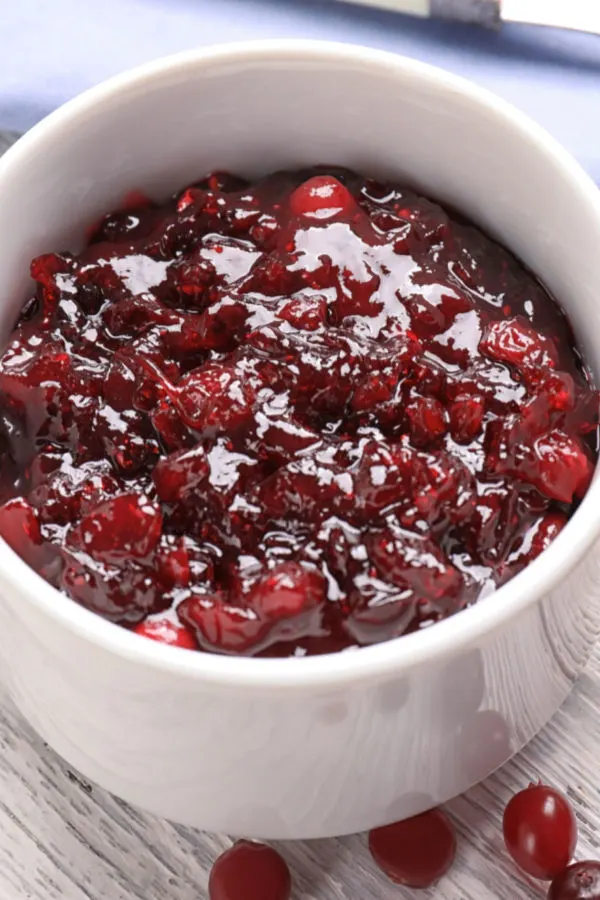 Best of all, it takes only 5 minutes to make. And it is also one of those Thanksgiving recipes that you can make a day or two ahead of time.
Then put it in the refrigerator until it is time to serve dinner. It is one of my favorite recipes that help me save time on the actual holiday.
And even when you are cooking for two, any time saved in the kitchen is well worth it! Although this Thanksgiving Dinner Step by Step Guide focuses on serving a family size Thanksgiving dinner, it gives you a great timeline on how to prepare an entire Thanksgiving meal from start to finish even when cooking for two.
Although I may make a Stuffed Turkey Breast Tenderloin or make Turkey and Dressing in a Crock Pot, the timeline helps me with items that I can make a day or two in advance of the holiday. And this cranberry sauce is one of them.
The Difference Between Cranberry Sauce and Cranberry Relish
However, you may be wondering what the difference is between the terms cranberry sauce and cranberry relish. Growing up my Thanksgiving table always had a helping of what my parents would call Cranberry Sauce, out of a can.
The gel like substance would slide out of the opening of the top of the can and retain the shape of the rigged can when placed on a plate. Then it was cut with a knife and served as a side dish.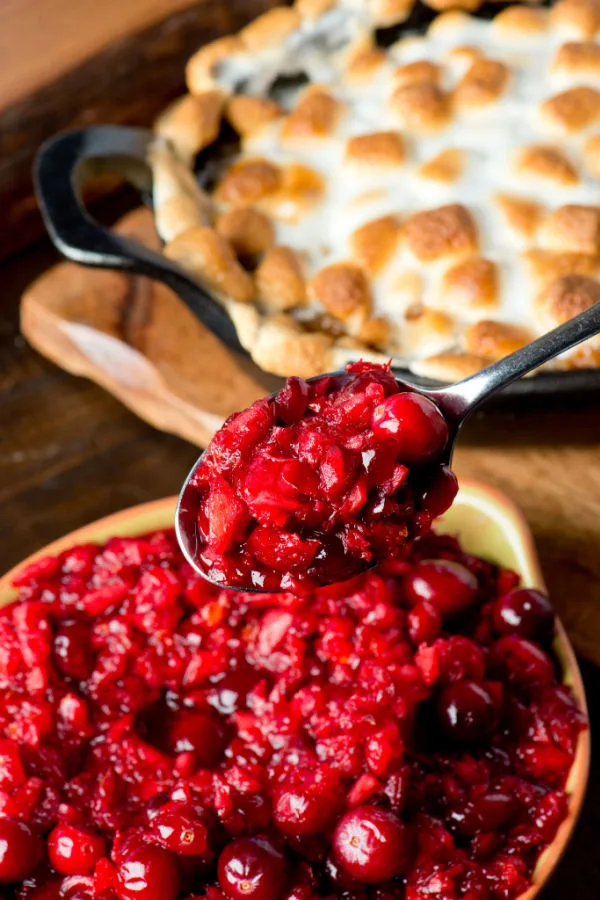 To be honest, as a child I never wanted to touch the cranberry sauce that always on our Thanksgiving table. It wasn't until I was an adult and attended other Thanksgiving celebrations that I tasted real cranberry sauce, made with whole cranberries.
Although both versions are technically cranberry sauce, they look completely different from each other. As mentioned above, the canned version is a smooth gel sauce.
There are no chunks in the sauce at all and it resembles the consistency of Jell-O. However, fresh cranberry sauce is a chunky sauce consists of cranberries, sugar, and a little liquid.
So what defines the main difference between cranberry sauce and cranberry relish? Cranberry sauce is always cooked then served as a chunky or pureed sauce.
On the contrary, cranberry relish is made by mixing raw ingredients in a food processor. Although you may use the same ingredients, cranberry relish uses only raw ingredients.
Why Is Cranberry Sauce Served At Thanksgiving
Because cranberries are one of only three native fruits that are still commercially processed in the United States, it is believed that it was probably served at the original Thanksgiving celebration.
It was easy to prepare and was served as a complimentary side dish for the main dish or geese, duck, venison, and possibly turkey. To this day it is a staple recipe that finds its way to the majority of Thanksgiving celebrations.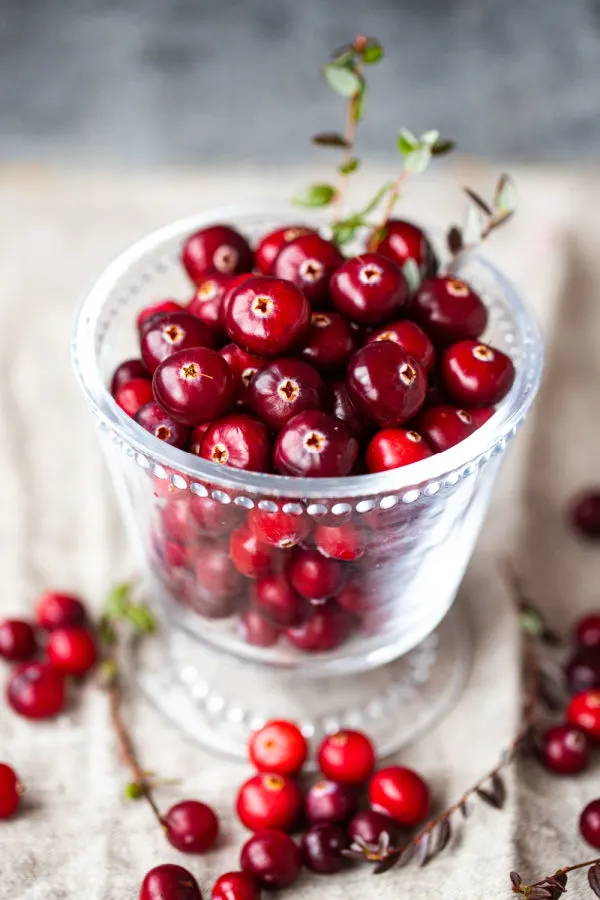 Where Do Cranberries Grow?
Although you may see a countless number of pictures of cranberries floating in a bog of water, they actually don't grow in the water itself. Instead, that is how they are harvested.
Cranberries actually grown on vines, similar to strawberries. They thrive in the wetlands where there are layers of glacial deposits of sand, peat and gravel.
The farms are most often in coastal areas that include a cold weather period which encourage growth year after year. In the United States, the major commercial producers of cranberries are in the following states: New Jersey, Massachusetts, Oregon, Washington, and Wisconsin.
However, there are cranberry bogs located in other states including, but not limited to Michigan, Maine, Delaware, Rhode Island and New York.
When the berries turn red and are ripe, it is time to harvest them. Then they can be made into juice, preserves, sauce or be processed into dried cranberries. You can also purchase them as fresh fruit as well.
How To Harvest Cranberries
There are two methods of harvesting ripe cranberries, dry or wet harvesting. Most often you will see pictures of cranberries floating in a bog of water.
Wet harvesting is how 95% of the cranberries come out of the farms. First, water floods the field. Then as the water rises the ripe cranberries will float to the top.
Then they are gathered and harvested for later use. However, there is also a dry harvesting method as well. However, this is for only about 5% of the cranberry harvest.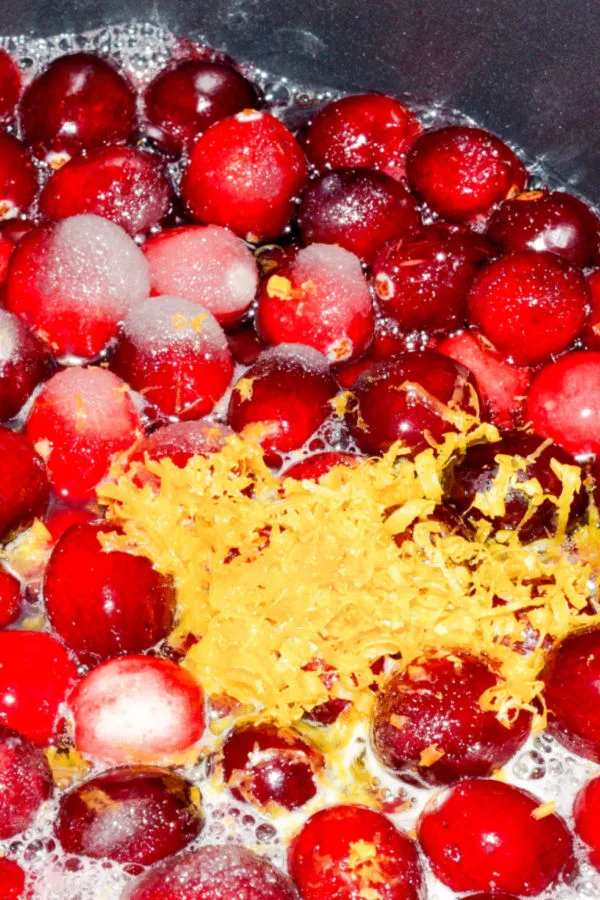 Dry harvesting includes a mechanical picker that harvests the ripe berries. Then the berries are available at the market as fresh fruit.
It is not a common method of commercial picking. Although it is often a farming method at smaller farms.
So now that you know where cranberries come from and the history of them, lets get to the easy cranberry sauce recipe for two!
Cranberry Sauce For Two
*A printable recipe card is located at the bottom of this article which contains the specific measurements, temperatures and cook times. However, continue reading below to learn about more helpful tips about this specific recipe.
INGREDIENTS
6 ounces of whole fresh cranberries, washed*
1/3 cup granulated sugar
2 1/2 tablespoons water
1/2 tsp orange zest
1/2 tablespoon orange juice
*Fresh cranberries are typically sold in 12 ounce bags. You will only need half of the bag for this recipe. However, you can freeze the remaining cranberries to use later.
INSTRUCTIONS
Add cranberries, sugar, water, orange zest and orange juice in a small saucepan and stir to combine. Then place the pan over medium-high heat and stir until the mixture reaches a boil.
When the cranberries start to pop reduce the heat to low and cover and simmer for 2 minutes. Then remove the saucepan from the heat.
Transfer the mixture to a serving bowl and refrigerate until the cranberry sauce firms up. Serve cold with additional orange zest on top if desired.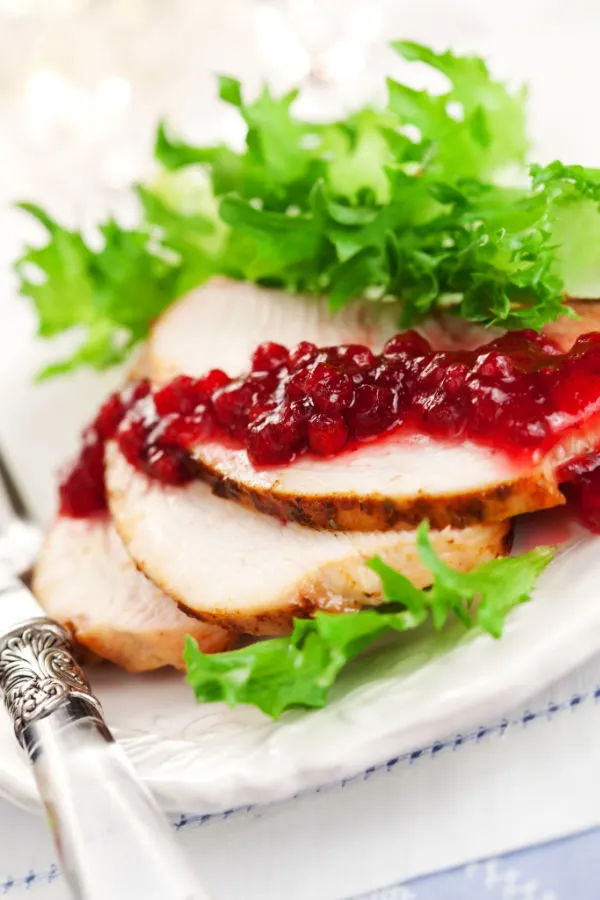 *If you like a smoother cranberry sauce, puree the mixture while it is still hot with an immersion blender. You can also put it inside a food processor or high speed blender, filled no more than half full. Then process until the desired consistency is reached.
Enjoy! Mary

To receive FREE recipes delivered directly to your email, be sure to sign up for the iCookfortwo newsletter. A sign up form is located in the middle of this article. If you have any questions, comments, or want to submit an idea for a recipe for two, feel free to email at mary@icookfortwo.com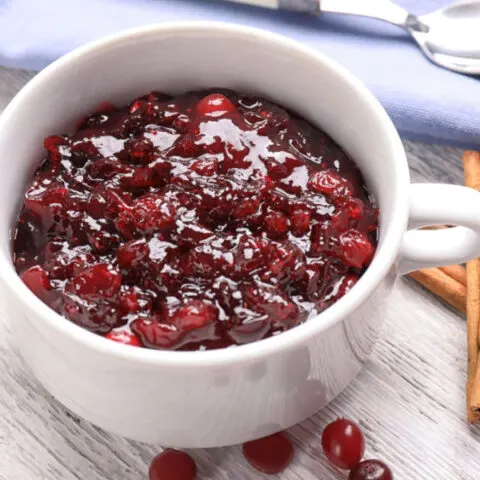 Easy Cranberry Sauce For Two
Additional Time:
30 minutes
Easy homemade cranberry sauce recipe that is the perfect amount for 2-4 people. A Thanksgiving must make recipe.
Ingredients
6 ounces of whole fresh cranberries, washed
1/3 cup granulated sugar
2 1/2 tablespoons water
1/2 tsp orange zest
1/2 tablespoon orange juice
Instructions
Add all the ingredients in a small saucepan and stir to combine.
Cook on medium-high heat until the mixture reaches a boil. When the berries start to pop reduce the heat to low and cover and simmer for 2 minutes. Remove the saucepan from heat. Transfer mixture to a serving bowl and refrigerate until the cranberry sauce firms up.
Serve cold.
Notes
This recipe makes a chunky sauce. If you want a smooth sauce puree with an immersion blender or food processor after cooking.
Recipe provided by iCookfortwo.com
Nutrition Information
Yield

4
Amount Per Serving
Calories

85
Total Fat

0g
Saturated Fat

0g
Trans Fat

0g
Unsaturated Fat

0g
Cholesterol

0mg
Sodium

1mg
Carbohydrates

22g
Fiber

2g
Sugar

18g
Protein

0g
Nutritional Information is to be used as a general guideline only . Nutritional calculations will vary from the types and brands of the products used.