This Shrimp and Avocado Salad is a quick, easy and delicious recipe that is great to serve during the Lent season. Shrimp, avocado and red onion mixed together and then tossed in a simple homemade citrus dressing.
It is one of those recipes that is so easy to make, yet so elegant that it may not come to your mind when searching for a dinner idea to make on Fridays during Lent.
As much as I love cheese pizza, grilled cheese and tomato soup, and pasta with marinara sauce, I quickly get tired of eating the same meals over and over again.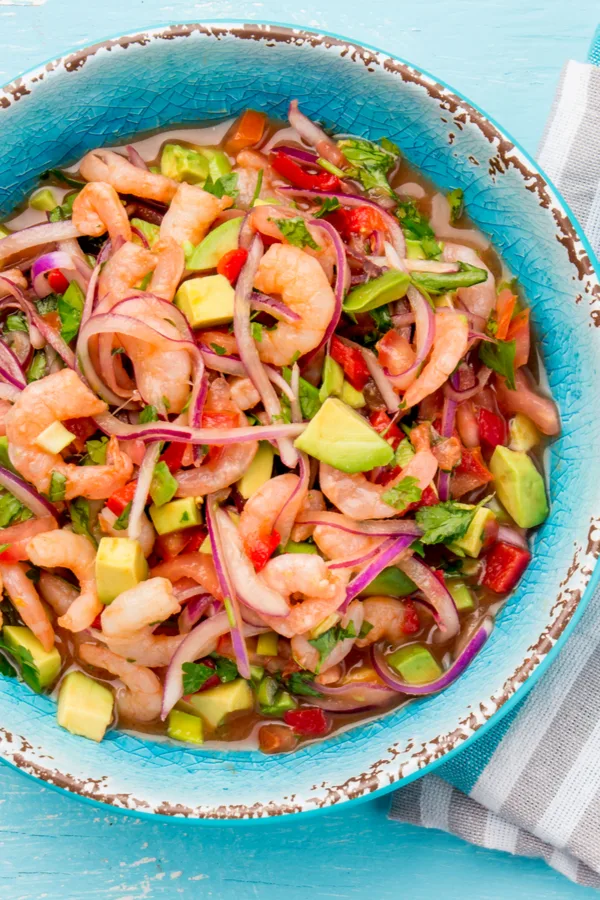 However, during this period, you are also likely to see almost every restaurant advertising their fish sandwich special or a fish and chips special on Friday night. Although I love to make my Air Fryer Fish and Chips recipe, sometimes I want to make something a little lighter and healthier.
And that is when I turn to making shrimp recipes. Not only are they delicious, but they are quick and easy to make. In fact, this recipe takes only 10 minutes to prepare!
With just a few basic, and easy to find ingredients, this dish is ready to eat in no time! In addition, it is so versatile that you can serve it any time of the day.
Different Ways To Serve Shrimp and Avocado Shrimp
Need to get on the road? Grab a bowl of the shrimp and avocado salad and eat it on the go. Or serve it on a piece of toast or in a tortilla shell.
Want a quick, easy and healthy lunch recipe and doesn't require reheating? Simply pull the salad out of the refrigerator or your lunch bag and lunch is ready!
What about dinner? You can make this a complete meal by serving it on a bed of spinach or mixed greens along with a few cherry tomatoes.
Finally, you can also serve this recipe for an appetizer or snack. Add it to your charcuterie board along with toasted baguettes, crackers, cheese, grapes and nuts for a complete entertaining spread.
As you can see, this recipe is so versatile that I am confident that you will love it as much as I do!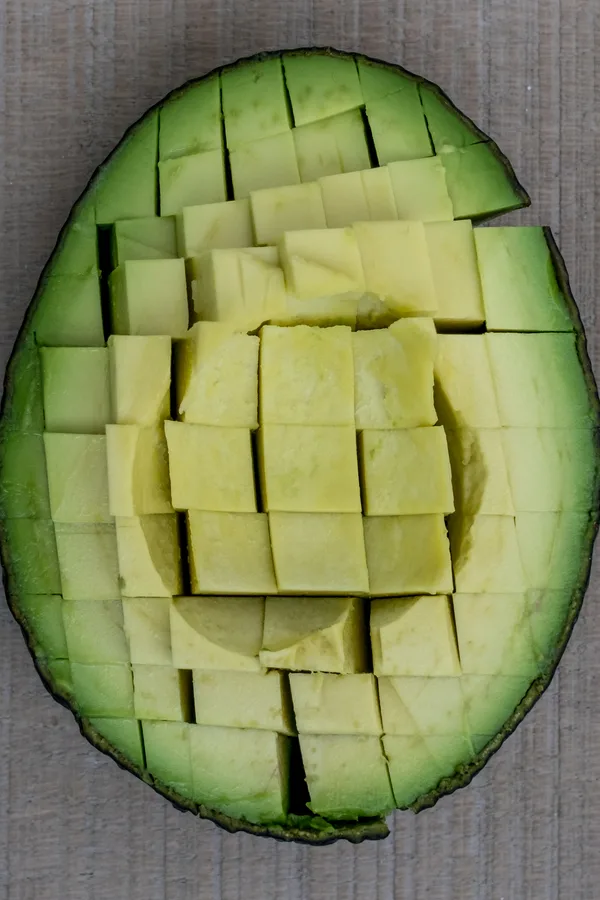 Easy Shrimp and Avocado Salad Recipe
*A printable recipe card is located at the bottom of this article which contains the specific measurements, temperatures and cook times. However, continue reading below to learn about more helpful tips about this specific recipe.
INGREDIENTS
Shrimp, peeled, deveined & cooked
Avocado, cut into bite size chunks
Diced or thinly sliced red onion
DRESSING INGREDIENTS:
Extra virgin olive oil
Red wine vinegar
Lemon juice
Garlic powder
Cilantro, chopped
Dijon mustard
Salt and pepper to taste
INSTRUCTIONS
The first step in making this Shrimp and Avocado Salad recipe is to prepare the shrimp. Because this is a salad recipe, you want to purchase shrimp that are medium to small in size.
The recipe calls for 1/2 pound of shrimp. Therefore, if you use medium size shrimp, you can count on approximately 20 shrimp that will be included in this recipe.
When you go to pick up your shrimp for this recipe, you can purchase shrimp that is either fresh or frozen. However, be sure that they are peeled, deveined, and cooked.
Of course you can purchase them raw and remove the shell and vein yourself, but it is much easier to buy them already prepped and ready to go. Just be sure if you buy frozen shrimp that they are completely thawed before proceeding with this recipe.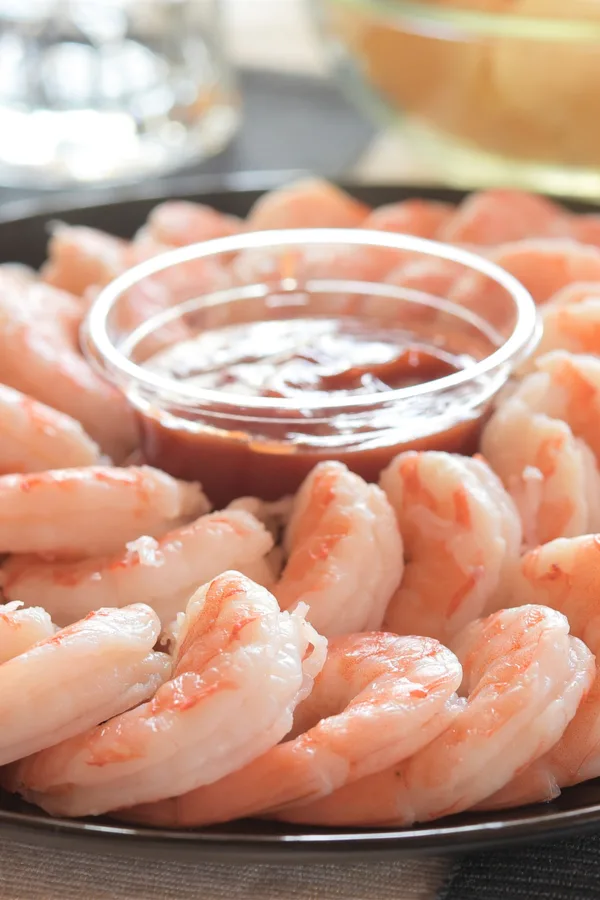 Sometimes I will even use the shrimp leftover from a shrimp ring to make this recipe. It is a great way to enjoy the shrimp in a different way without it going to waste.
Once you have your shrimp, add it to a medium size bowl. Then add the diced avocado and onion to the bowl and toss to combine. Set the mixture aside while you make the dressing.
In a small measuring cup, mix together the dressing ingredients and whisk until incorporated. Then pour half the dressing on top of the shrimp, avocado, and onion mixture and toss to combine.
Add additional dressing, salt & pepper per your taste preference. Serve immediately or cover and refrigerate until ready to serve.
Frequently Asked Questions
1. How Is This Different From Shrimp Ceviche?
Although many of the ingredients in this shrimp and avocado salad recipe are similar, there is one major difference. The shrimp used in this recipe is already cooked.
When making Shrimp Ceviche, you start with peeled, deveined, and uncooked shrimp. Then it is soaked in the lemon juice and essentially cooks in the acid before it is added to the other ingredients.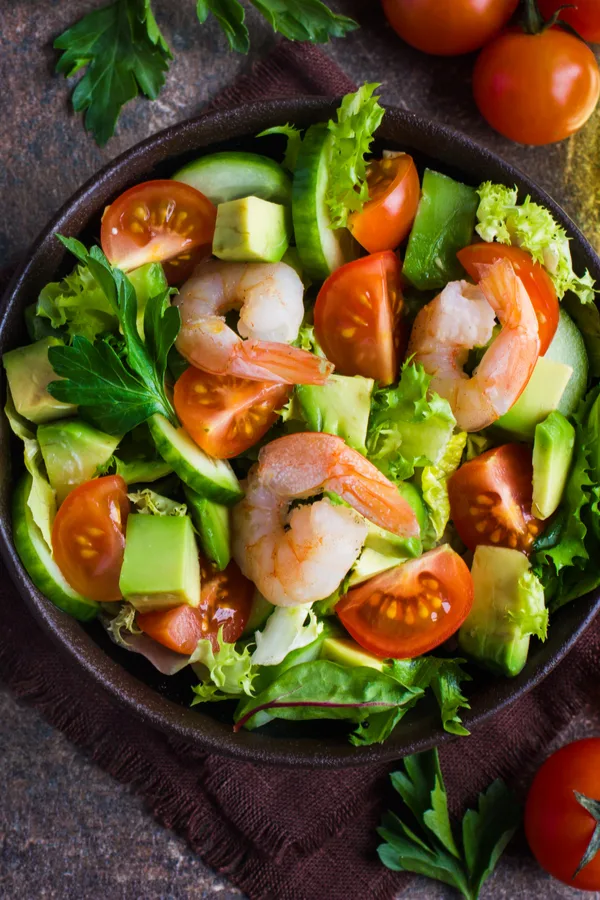 2. How Long Can I Store This In The Refrigerator?
Shrimp will stay good in the refrigerator for 3-4 days. However, because this salad contains diced avocados, it is best to eat it the same day as it is made.
Although the lemon juice will delay the avocado from browning I highly recommend placing plastic wrap directly on top of the salad when storing it in the refrigerator. This will also help delay the avocado from browning.
3. Can I Add Other Ingredients?
Feel free to add or eliminate ingredients based on your taste preferences. As mentioned above, I will often add a few halved cherry tomatoes and serve it on a bed of baby spinach.
However, I also like to add in a diced baby bell peppers, and sometimes I will even add some diced jalapeno as well.
Don't like the taste of cilantro? Add in chopped fresh parsley instead. The choice of ingredients are totally up to you and what you like to eat.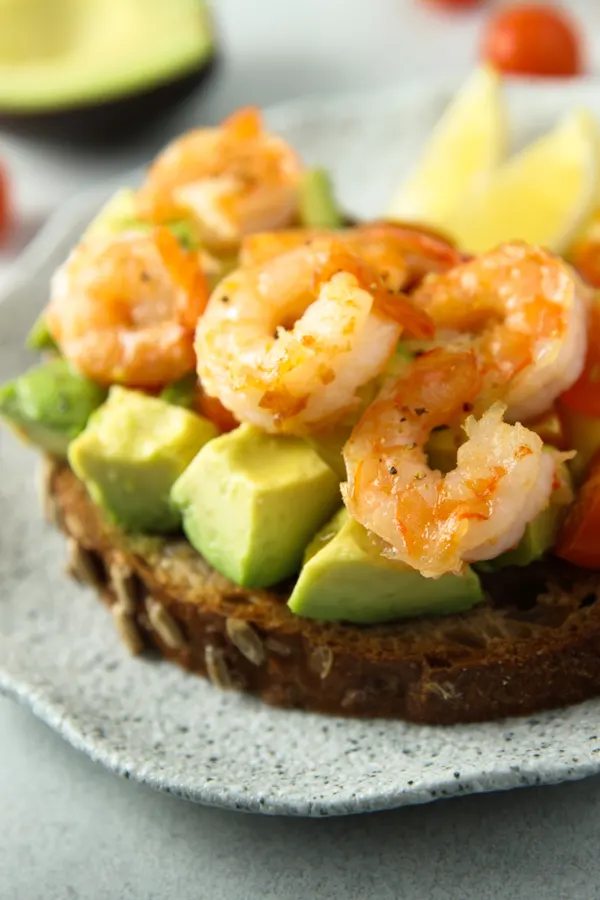 Other Great Recipes To Serve During Lent
Because many people are searching for other recipes to make during Lent, I thought I would include some of my most popular recipes during this time period.
Enjoy! Mary

To receive FREE recipes delivered directly to your email, be sure to sign up for the iCookfortwo newsletter. A sign up form is located in the middle of this article. If you have any questions, comments, or want to submit an idea for a recipe for two, feel free to email at mary@icookfortwo.com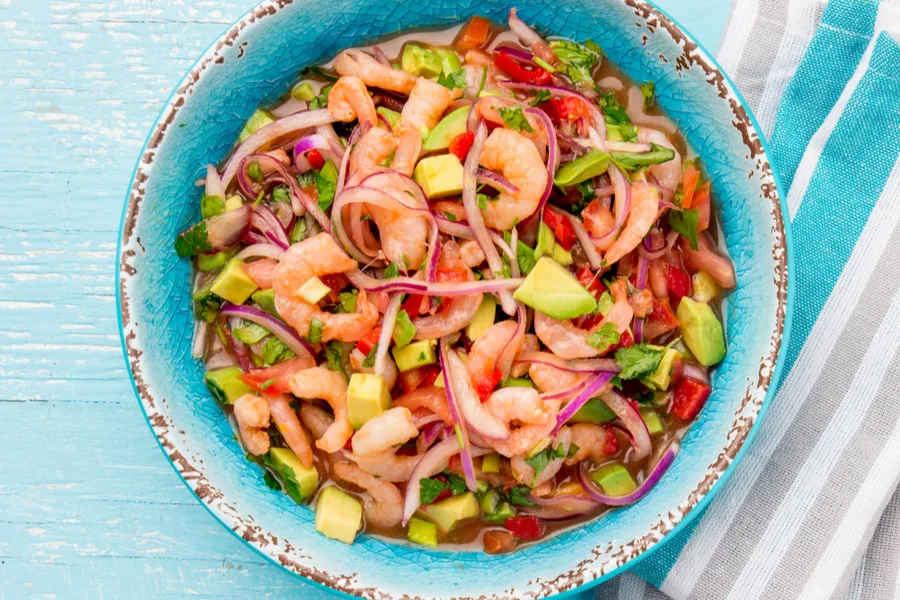 Easy Shrimp and Avocado Salad Recipe
A light and refreshing shrimp and avocado salad that you can eat as a side dish, appetizer or over a bed of spinach for a complete lunch or dinner recipe.
Ingredients
1/2 pound shrimp, peeled, deveined & cooked
1/2 avocado, cut into bite size chunks
1 1/2 teaspoon diced red onion
DRESSING INGREDIENTS:
1 Tablespoon extra virgin olive oil
1 Tablespoon red wine vinegar
1/4 teaspoon lemon juice
1/8 teaspoon garlic powder
1/2 teaspoon cilantro chopped
1/4 teaspoon Dijon mustard
salt and pepper to taste
Instructions
Add shrimp, avocado, and onion to a small bowl.
In a small measuring cup, mix together the dressing ingredients and whisk until incorporated. Pour half the dressing on top of the shrimp, avocado, and onion mixture and toss to combine.
Add additional dressing, salt & pepper per your taste preference.
Serve as a side salad, or place it over a bed of spinach and add diced cherry tomatoes for a complete meal.
Notes
Recipe provided by iCookfortwo.com
Nutrition Information
Yield

2
Amount Per Serving
Calories

204
Total Fat

9g
Saturated Fat

2g
Trans Fat

0g
Unsaturated Fat

7g
Cholesterol

239mg
Sodium

1240mg
Carbohydrates

3g
Fiber

0g
Sugar

0g
Protein

26g
Nutritional Information is to be used as a general guideline only . Nutritional calculations will vary from the types and brands of the products used.