Have you ever tried a smoked salmon bagel? They are a super popular menu item at restaurants around the world. And although they look a very elegant breakfast, they couldn't be easier to make!
It all starts with open faced, toasted bagel that has a generous layer of lightly seasoned cream cheese spread on the surface. It is then topped with a thin slice of cold smoked salmon, red onion, and capers.
Sounds interesting, right? Believe me, one bite and you will be blown away at the burst of flavors dancing around in your mouth.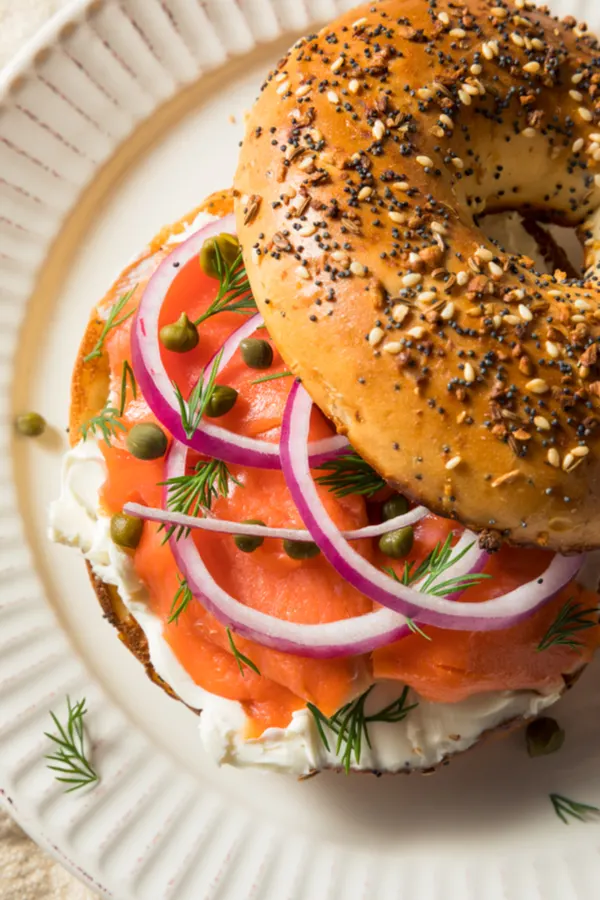 The bagels are most often served for breakfast or brunch. In fact, these elegant looking bagels are the perfect thing to serve for any special occasion, including Valentine's Day.
Best of all, you can prepare this hearty and filling bagel in less than ten minutes. All you need are a few ingredients that you can find at most grocery stores.
A Burst Of Flavor In Every Bite
Each ingredient will have a crucial role in providing the maximum flavor in every bite. And it all starts with the bagel itself.
I prefer to use plain bagels because there is so much flavor in the other ingredients. However, if you prefer, you could use a bagel seasoned with poppy seeds, everything bagel seasoning or even a garlic bagel. Just stay away from sweet bagels that contain fruit, like blueberry bagels.
Next comes the cream cheese layer that will give you that light and refreshing flavor because of the added lemon juice. Then the smoked salmon is placed on top which has a unique flavor among itself.
Then the capers get sprinkled on top to give you a salty depth of flavor. And finally, the crunch and taste of the red onion compliments the rest of the ingredients perfectly!
Now that you can see why this recipe is so delicious, I will walk you through how easy it is to make it.
Smoked Salmon Bagels Recipe
INGREDIENTS
Two bagels, halved
Thinly sliced smoked salmon*
Cream cheese, room temperature
Lemon juice
Fresh dill
Salt and pepper to taste
Red onion, cut in thin slices
Capers**
*You can find smoked salmon in the refrigerated seafood section of your grocery store. It will be in small, plastic sealed package and is meant to be served cold.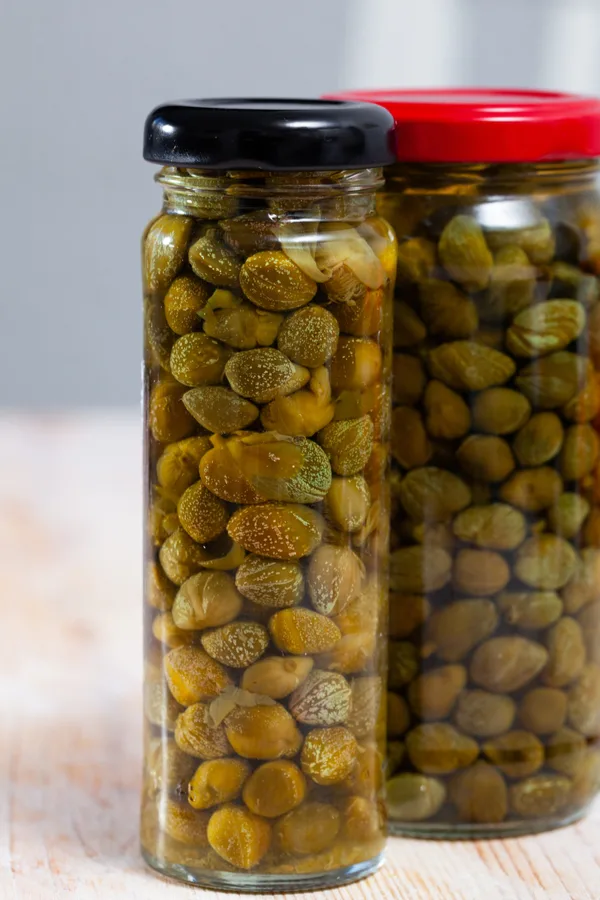 **Capers can be found in the condiment aisle near the olives and pickles. Look for a tall, thin glass jar with round green capers soaked in liquid.
Capers are pickled immature flower buds that come from a bush called capparis spinosaa. The pickling process is what gives the capers that iconic salty flavor desired in recipes.
INSTRUCTIONS
The first step in making Smoked Salmon Bagels is to prepare the cream cheese mixture. Start with room temperature cream cheese and place it in a small bowl.
Then add the fresh dill, lemon juice, salt and pepper. Use a hand mixer or a strong silicone spatula to blend the ingredients until the consistency of a creamy paste.
Next, place the bagel halves in a toaster or toaster oven and cook until they are light golden brown in color. Let the bagels cool for a few minutes to allow the heat to escape.
The reason behind letting the bagels cool a little is two-fold. First it will make bagels themselves crisper. Second, it will allow the cream cheese to remain cool and not melt when it is spread on top.
After the bagels cool down a bit spread the cream cheese mixture on the cut side of each bagel. Spread it evenly to get the flavor all over.
After spreading the cream cheese mixture, add the smoked salmon on top. You can make it look fancy by folding a thin slice of the salmon over top of itself, but this isn't necessary.
Next add the capers and red onions to each half of the bagels. Garnish with additional dill and a light drizzle of fresh lemon juice on top.
The smoked salmon bagels are now ready to serve.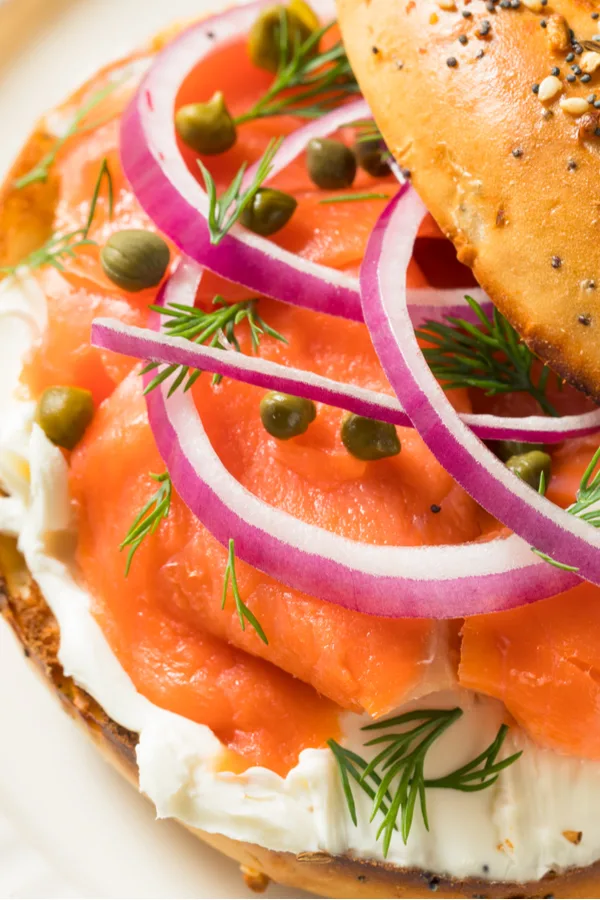 How to Store the Leftovers
Although it will be unlikely that you will have leftovers, you can store them in a sealed container for up to 3 days in the refrigerator.
However, the taste and texture will be different than when you enjoyed them fresh. Because they are so easy to make, I suggest making individual servings so you don't have to worry about the leftovers.
Although, if you have extra cream cheese mixture you can go ahead and store it in the refrigerator for up to 1 week.
And if you have extra smoked salmon, make these Smoked Salmon Phyllo Cups that are perfect for an appetizer for any special occasion!
Helpful Tips
1. Be sure that you start with room temperature cream cheese. If you try to blend cream cheese right out of the refrigerator it will be difficult to mix and you will have clumps of cream cheese in the spread.
However, if you use softened cream cheese the spread will be evenly mixed and it will come together in seconds. It really does make everything easier and more tasty.
2. Allow the toasted bagels time to cool before assembling the other ingredients on top. Not only will the Smoked Salmon bagels remain crispy, it will allow the other ingredients to keep their unique flavor that provides so much to this recipe.
3. Make individual servings based on your appetite. This recipe calls for 2 whole bagels, which results in 4 bagel halves. Therefore, if you don't think you and your guest will eat all 4 halves, only prepare what you will eat.
You can also make a smoked salmon bagel sandwich instead of serving them as open faced sandwiches. Both presentations are elegant and a great breakfast choice.
Frequently Asked Questions
Is Smoked Salmon and Lox the Same?
No, they are different. Lox comes from the belly of the fish and it is not smoked but cured in salt instead. However, smoked salmon is typically brined or cured and then smoked. You can use lox in the place of salmon in some recipes. However, you will find it saltier then smoked salmon. Therefore, I prefer to use smoked salmon for this recipe.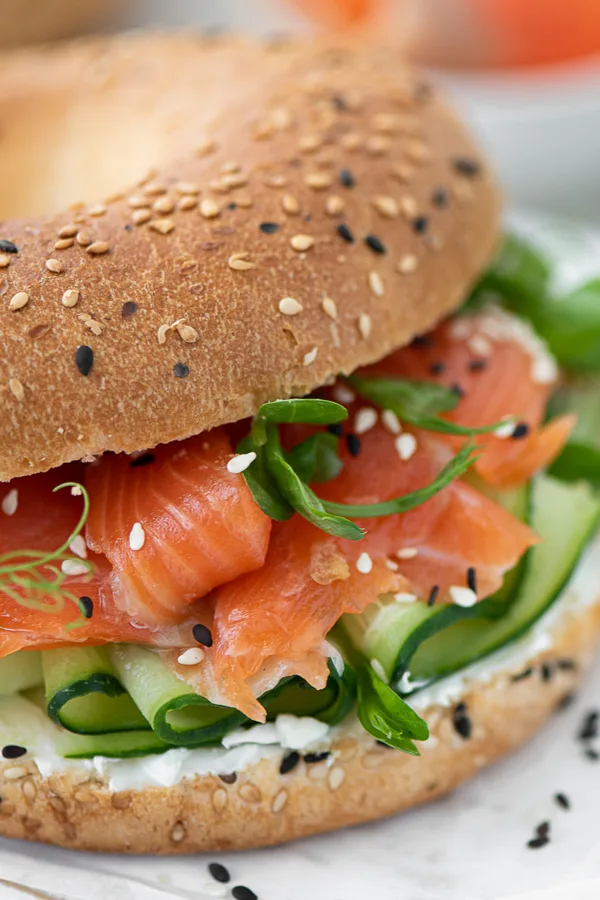 Can I Use Other Ingredients in the Recipe?
Yes, you can add some of your favorite ingredients to your recipe. However, you will have to ensure that the ingredients go well with the flavor of smoked salmon. You can add sliced tomatoes, cucumbers, avocado slices and/or arugula to your bagels.
Want to make it even better, top your bagel with Easy Eggs Benedict! You can thank me later 🙂
Can I Freeze Smoked Salmon Bagels?
If you want to freeze the bagels, go ahead and prepare them as instructed. Then wrap them individually in plastic bags and place them in the freezer.
When you want to enjoy them for breakfast, lunch or dinner, let them thaw at room temperature. Frozen bagels make a great meal or snack when you are on the go.
Simply pull them out of the freezer in the morning and take them with you. Then when you are ready for lunch, they are thawed and ready to eat!
However, as stated above, I prefer to eat them fresh whenever I can.
Enjoy! Mary

To receive FREE recipes delivered directly to your email, be sure to sign up for the iCookfortwo newsletter. A sign up form is located in the middle of this article. If you have any questions, comments, or want to submit an idea for a recipe for two, feel free to email at mary@icookfortwo.com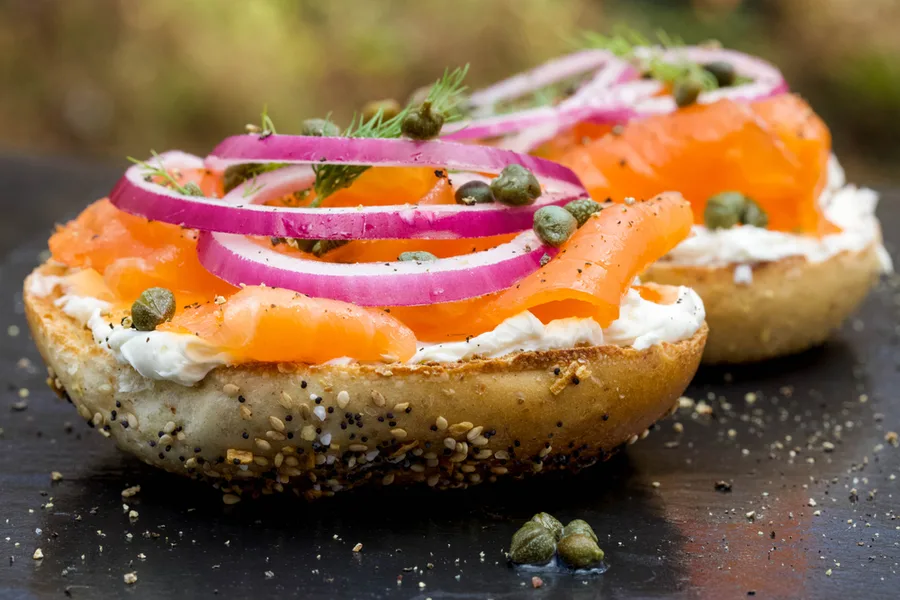 Smoked Salmon Bagel Recipe
Ingredients
2 bagels, halved
4 ounces smoked salmon thinly sliced
4 ounces cream cheese, room temperature
2 tablespoons lemon juice
1 tablespoon fresh dill plus more for garnish
Salt and pepper to taste
Red onion slices for serving
Capers, drained, for serving
Instructions
In a small bowl, mix together the cream cheese, lemon juice, fresh dill and salt and pepper, to taste.

Toast the bagels, then spread the cream cheese mixture on both sides of each bagel. Add the smoked salmon, red onions and capers on each half of the toasted bagels.

Garnish with additional dill if desired.