There isn't a better way to finish off a romantic, Valentine's Day dinner for two than enjoying a delicious chocolate dessert like this Molten Lava cake. The dessert is absolutely delicious, looks stunning and will be sure to impress your date, partner or spouse!
A well-chosen dessert is an essential part of any Valentine's Day dinner. And what can be more romantic than giving your love a sweet treat, that was not bought at the store, but homemade.
A small, round chocolate cake that is dusted with powdered sugar would be enough to impress anyone. However, just wait, it only gets better!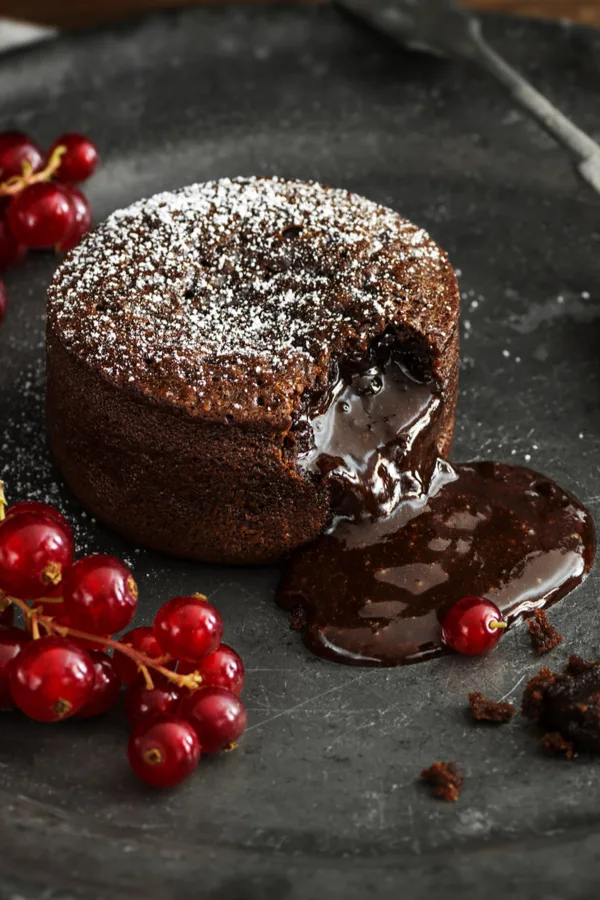 As you cut through to the center of the cake, warm and gooey chocolate spills out onto the plate. Talk about a dramatic effect! It is definitely a dessert that is perfect for Valentine's Day, or any day of the week in my opinion!
It doesn't get much more impressive than that! However if you are a novice cook or are hesitant about making a dessert that looks so incredible, don't worry!
Easy To Make
Although impressive in all ways, this molten lava cake is actually very easy to make. With the use of a few common ingredients you can have your cake made and on the table in no time!
This simple to follow recipe makes enough for two individual servings. Although sharing a dessert is romantic, but this cake is so good that just one won't be enough!
So if you are looking for the perfect Valentine's Day dessert recipe, look no further. Keep on reading the recipe below to find the step by step guide on how to make the most impressive cake for two.
Molten Lava Cake Recipe For Two
The ingredients necessary to make this amazing dessert are easy to find in most supermarkets. Chances are that you have most of them at home anyway! To make this delicious treat you will need the following ingredients.
*A printable recipe card is located at the bottom of this article which contains the specific measurements, temperatures and cook times. However, continue reading below to learn about more helpful tips about this specific recipe.
INGREDIENTS
Dark chocolate baking chips*
Butter
Eggs
Granulated sugar
Vanilla
Salt
Flour
*Be sure to use only the dark chocolate baking chips and not milk chocolate or semi-sweet chips for this recipe.
INSTRUCTIONS
To start preparing the molten lava cake, it's necessary to first preheat your oven and place the oven rack in the middle position.
Then take two 5-ounce ramekins, and use butter or shortening to grease the insides, including both the bottom and the sides. This will prevent the cakes from sticking to the dish during the baking process.
To give the cakes an extra touch, place just a little bit of granulated sugar in each dish and roll it around a bit. Spread it around each form, making sure the sugar granules stick evenly around the greased inside of the dish. When done, pour out the excess sugar and discard.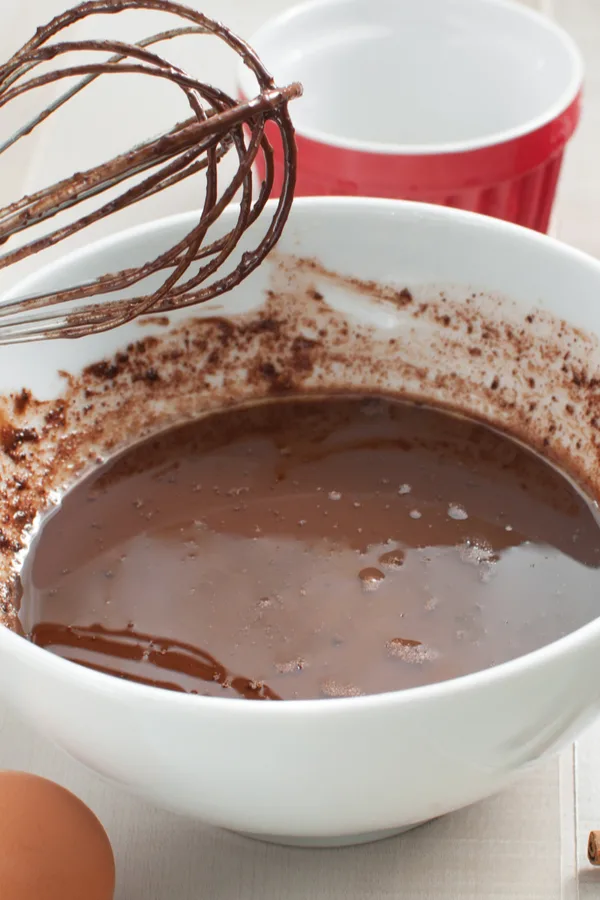 The next step is to start preparing the molten lava cake batter. Do this by placing chocolate chips and butter together into a microwaveable bowl. Heat the chocolate and butter at 50% power for 30 seconds in the microwave.
Then remove the bowl and stir. If the ingredients aren't melted, heat for another 15 seconds at 50% power.
Stir the mixture until a smooth mix forms. Tip: if the mixture starts solidifying when stirring, reheat it in 10 second increments to re-melt it.
After the chocolate has melted take a medium bowl and add the egg, egg yolk, sugar, vanilla and salt. Mix the ingredients until it turns pale yellow in color.
While still mixing, pour in the melted chocolate/butter mixture and the flour. Keep mixing until just combined.
Baking Time
Pour the batter into the prepared ramekins and bake for 11-12 minutes. This should bake and set the outside of the cakes, but leave the inside still wobbly and gooey.
When the cake is done, remove the ramekins from the oven and set aside to cool for around 2 minutes. Using a sharp knife, cut along the inside of each ramekin to loosen the molten lava cake from the dish.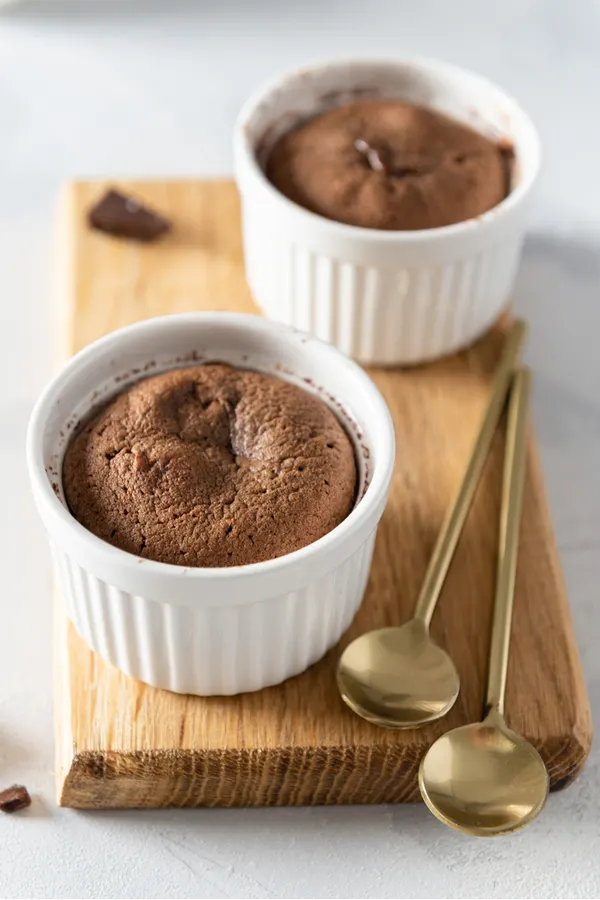 When done, place a plate on the top of the ramekins and carefully flip them over. Leave them upside down on the plate for around 30 seconds.
Then, gently tap the bottom of each ramekin a few times and then simply lift straight up! The forms should come away easily, leaving the cakes on the plate.
Although the cakes look done, there is one more step to do before serving them. To finish off this perfect romantic Valentine's Day dessert, you will add a little topping to make it look even more spectacular.
Toppings
Dust each cake with a bit of powdered sugar and garnish with raspberries and/or strawberries. Serve and watch your Valentine date get amazed!
And there you have it! You have just baked your own amazing Molten Lava cakes! They are best served warm so that the inside chocolate center can ooze out, but also can be served at room temperature.
Also, bear in mind that this dessert can be customized to suit your personal tastes. These cakes are amazing when served with vanilla ice cream and chocolate sauce.
And if you are looking to really top the night off, serve them with a semi-dry or dry red wine, to compliment the intense chocolate flavors.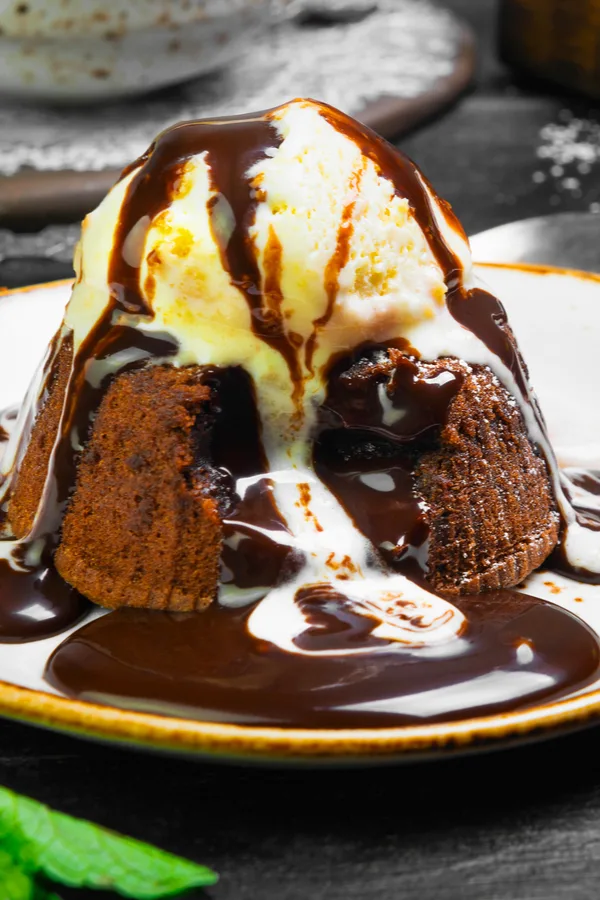 Hopefully this dessert will become a lovely tradition for not only your next romantic Valentine's Day dinner but for anytime the craving a delicious chocolate dessert hits you!
Did you know that you can also make this iconic chocolate dessert in an Instant Pot? Here is a link to the recipe if you want to give it a try: Instant Pot Lava Cake.
However, if you are not a huge chocolate fan, try out my recipe for Coffee Mug Cake. A delicious coffee cake that is made in minutes in the microwave and can be served for breakfast or dessert.
Enjoy! Mary

To receive FREE recipes delivered directly to your email, be sure to sign up for the iCookfortwo newsletter. A sign up form is located in the middle of this article. If you have any questions, comments, or want to submit an idea for a recipe for two, feel free to email at mary@icookfortwo.com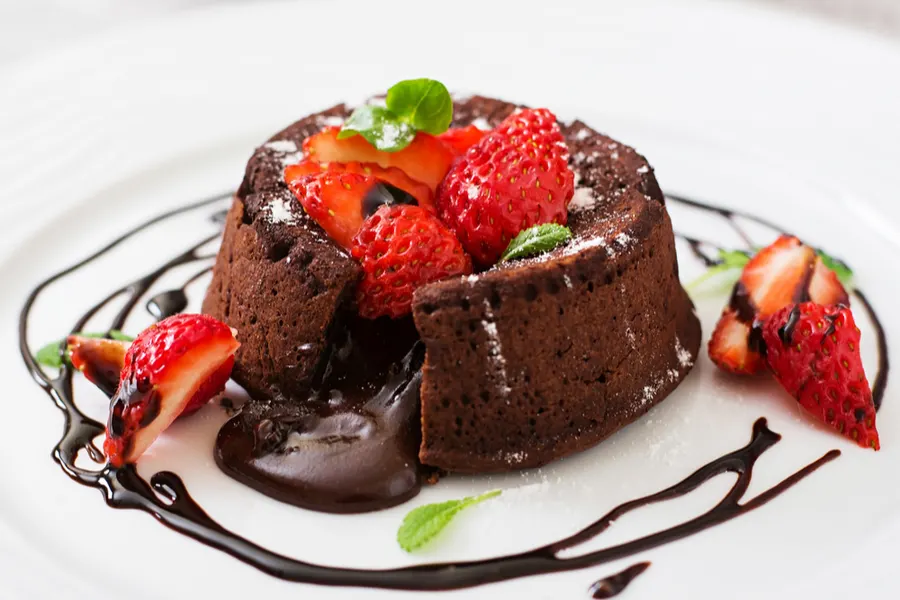 Molten Lava Cake
Chocolate cake made in ramekins with a gooey chocolate center that oozes out on the plate when cut. The perfect special occasion dessert for two!
Ingredients
1/2 cup dark chocolate baking chips
2 1/2 tablespoons butter
1 whole egg, room temperature
1 egg yolk, room temperature
3 tablespoons granulated sugar, (plus more for ramekins)
1/4 teaspoon vanilla
1/8 teaspoon salt
2 1/2 tablespoons flour
Instructions
Preheat oven to 400* F (205°C) and place oven rack in the middle slot. Grease two 5-ounce ramekins with butter or shortening, being sure to coat the entire inner surface. Then place 1 teaspoon of granulated sugar in each greased ramekin, roll the dish so that the sugar coats the bottom and sides. Pour out any excess sugar.
Place chocolate chips and butter together in a microwave safe bowl and melt in the microwave for 30 seconds at 50% power. Stir and heat an additional 15 seconds if the chocolate has not yet melted. Stir until smooth, reheating at 10 second increments if needed.
In a medium mixing bowl, add the egg, egg yolk, sugar, vanilla, and salt and mix until pale in color. Mix in the melted chocolate/butter mixture. Then add the flour and mix until just combined.
Pour the batter into the prepared ramekins and bake for 11-12 minutes until top is set but the center of the cake is still wobbly. Remove the ramekins from the oven and let the cake cool for 2 minutes.
Use a sharp knife to run along the inside of each ramekin to loosen the cake from the dish. Place a plate, upside down, on top of the ramekin and flip the ramekin over onto the surface of the plate. Leave the ramekin upside down for 30 seconds. Then tap the bottom of the ramekin a few times and lift it straight up. The cakes should come out easily.
Dust the cakes with powdered sugar and garnish with berries, ice cream and/or hot fudge.
Notes
Recipe provided by iCookfortwo.com
Nutrition Information
Yield

2
Amount Per Serving
Calories

684
Total Fat

42g
Saturated Fat

22g
Trans Fat

1g
Unsaturated Fat

17g
Cholesterol

228mg
Sodium

368mg
Carbohydrates

69g
Fiber

5g
Sugar

46g
Protein

9g