This Barbecue Ranch Chicken recipe is one of my favorite recipes to make in the middle of the summer when I don't want to heat up the kitchen. Instead of turning on the stove or oven, it is made in a slow cooker.
Best of all, it takes only 5 minutes to prepare. Simply place the ingredients in the slow cooker, turn it on, and walk away.
In fact, you don't even have to dirty another dish by mixing the ingredients in a separate bowl before they go into the slow cooker. Just place them in and let the magic happen while you go about your day.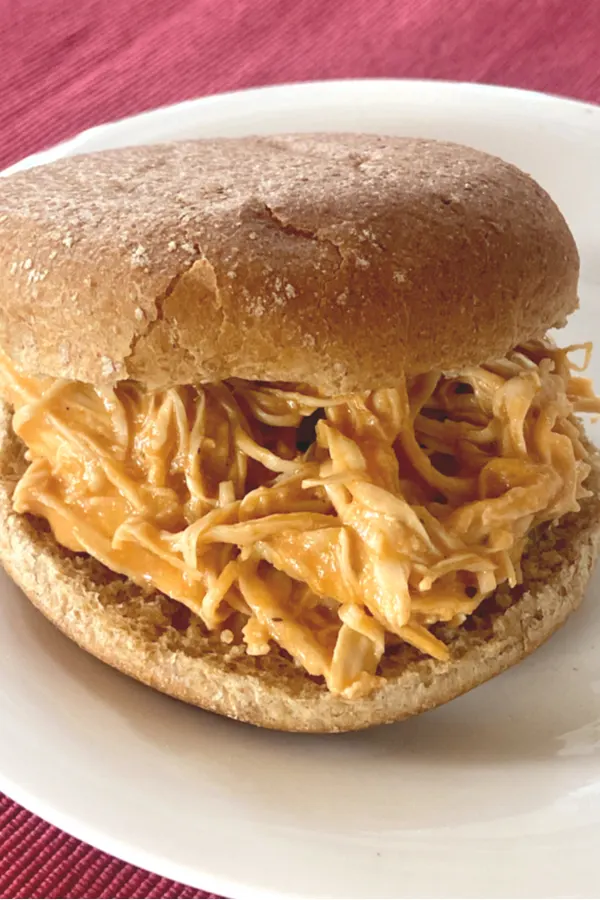 Then when it is time to eat shred the chicken and mix the strands with the sauce. You can serve it on buns for shredded chicken sandwiches, in tortilla shells for a wrap or eat it plain for a low carb lunch or dinner.
Of course, that is if you purchase low-carb barbecue sauce. Luckily sugar free barbecue sauce is easy to find at most large grocery stores.
I have used both G. Hughes Sweet & Spicy and Yo Mamas Sugar Free Barbecue Sauce with this recipe and they both taste delicious. However, if you aren't worried about carbs, use whatever barbecue sauce that you prefer.
Slow Cooker Barbecue Ranch Chicken Recipe
*A printable recipe card is located at the bottom of this article which contains the specific measurements, temperatures and cook times. However, continue reading below to learn about more helpful tips about this specific recipe.
INGREDIENTS
1-2 Chicken Breasts
1 1/2 Tablespoons dry Ranch Seasoning Mix
2 TBSP Mayonnaise
2 TBSP cup Heavy Cream
1/2 teaspoon distilled White Vinegar
3/4 cup Barbecue Sauce
More Information About The Ingredients
1. Chicken
You can use either boneless, skinless chicken breasts or chicken thighs for this recipe. However, because the boneless, skinless chicken thighs are so much smaller than the chicken breast, use an entire pound.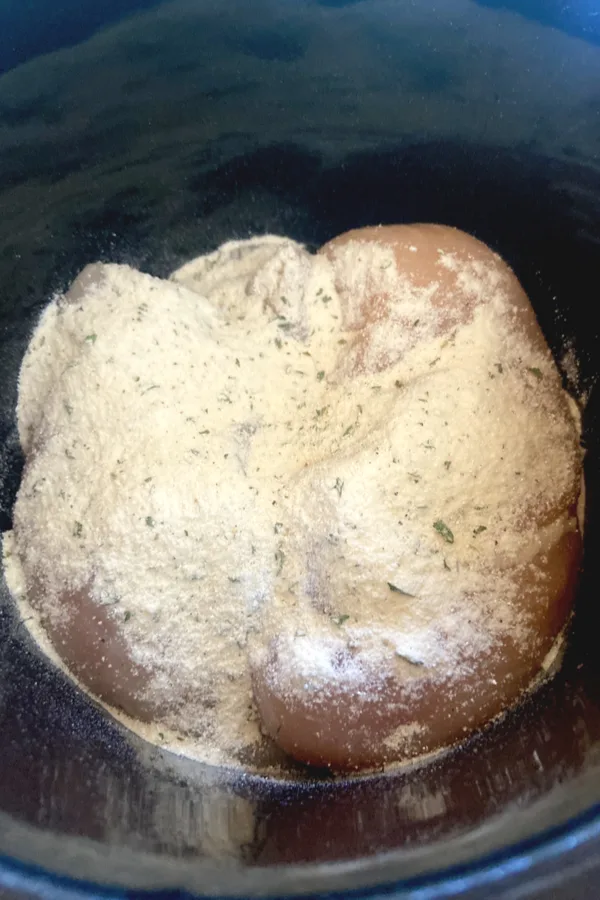 2. Dry Ranch Seasoning Mix
A single packet of dry ranch seasoning mix yields approximately 3 tablespoons. Therefore, use half of a single packet with making this barbecue ranch chicken recipe.
However, because I make this recipe so often, I will either make my own Homemade Dry Ranch Seasoning or purchase a large container of it at the grocery.
3. Mayonnaise
Feel free to use real mayonnaise, reduced fat, or even fat free mayo. However, if you are trying to keep this a low carb recipe, remember that reduced fat and fat free products typically increase the amount of carbs in the product.
You can also use Miracle Whip or Plant Based Mayonnaise in this recipe. Because you are using such a small amount, use whatever you have in your refrigerator.
4. Heavy Cream
If you don't have heavy cream, you can use whole milk instead. You can also use evaporated milk, cream cheese or even Greek Yogurt.
This recipe is very forgiving. The purpose of the heavy cream is to add a little creaminess to the sauce, so feel free to substitute with one of the above mentioned products.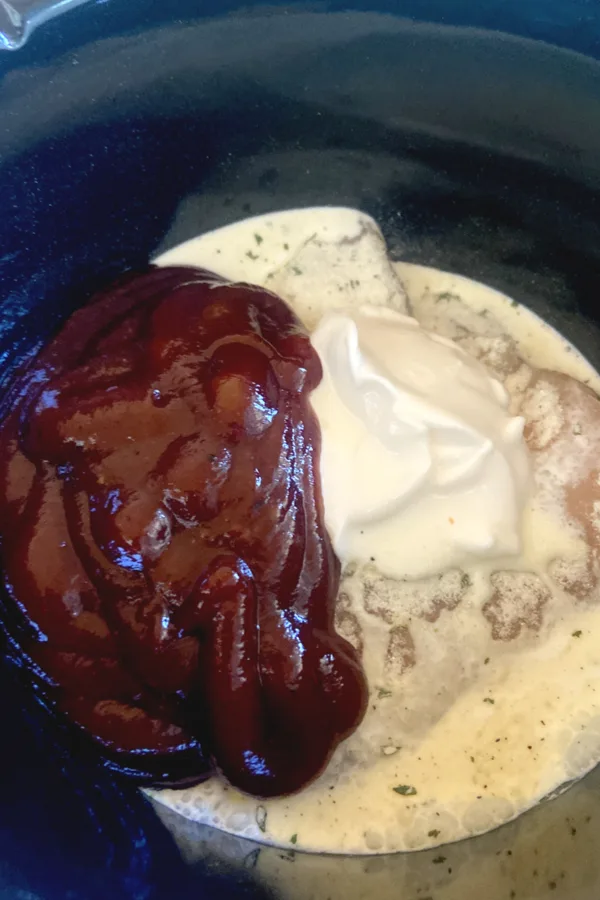 5. Distilled White Vinegar
The purpose of the vinegar is to help tenderize the meat of the chicken as it cooks. I prefer to use distilled white vinegar because it tenderizes without changing the flavor of the barbecue ranch chicken.
6. Barbecue Sauce
As mentioned above, use your favorite Barbecue Sauce. If you like things a little spicy, pick one that has a little heat.
If you are more of a sweet barbecue fan, pick out your favorite sauce. However, be sure to save some of your favorite sauce to make Bacon Wrapped Barbecue Chicken.
INSTRUCTIONS FOR MAKING BARBECUE RANCH CHICKEN IN A SLOW COOKER
Start by trimming any excess fat from the chicken. Then place the chicken in the bottom of your slow cooker.
When making recipes for two, I use my small, 2 Quart Crock Pot. Not only is it the perfect size when making small recipes, I also use it for making hot dips for parties.
Once the chicken is in the bottom of the slow cooker, sprinkle the Ranch seasoning mix on top. Then add the mayonnaise, heavy cream and vinegar and place them on top of the chicken.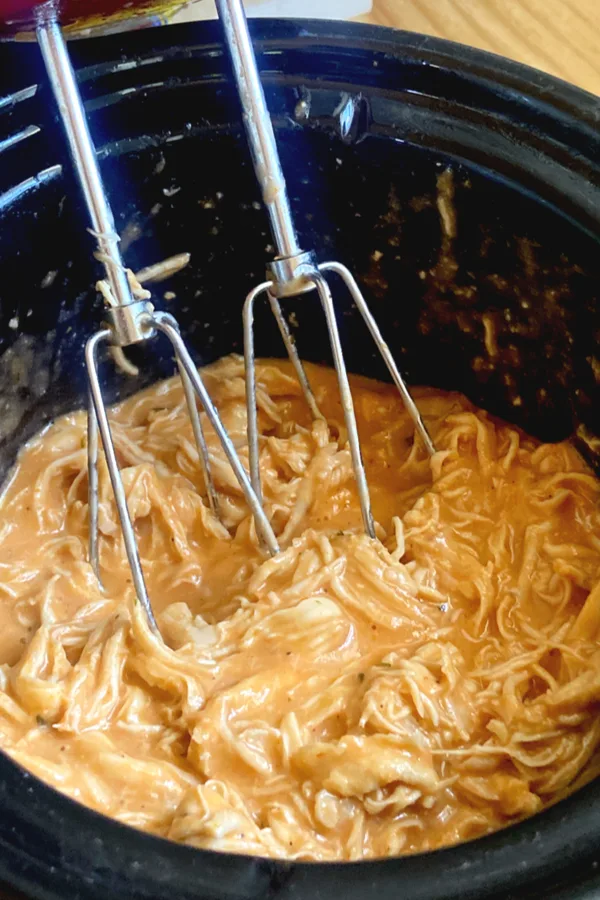 Finally, add the barbecue sauce on top of the other ingredients. Place the lid on top and cook on HIGH for 3-4 hours or on Low for 6-7 hours.
Before shredding the chicken be sure to check the internal temperature with an instant read digital thermometer. The chicken is ready to shred when it reaches 165°F at the center of the thickest portion.
Once it has reached a safe consumption temperature, remove the lid and shred the chicken using two forks or a small hand mixer. I prefer to use the hand mixer, however be sure to start out on low speed so that the liquid does not splash outside of the slow cooker.
Once the chicken is shredded, mix the strands with the barbecue ranch sauce by stirring until well coated. Let the shredded chicken sit in the warm liquid for 10 minutes before serving.
How To Serve Shredded Barbecue Ranch Chicken
The most common way to serve shredded chicken is on a bun for a sandwich. However, there are other delicious ways to eat or use the leftover meat for other meals.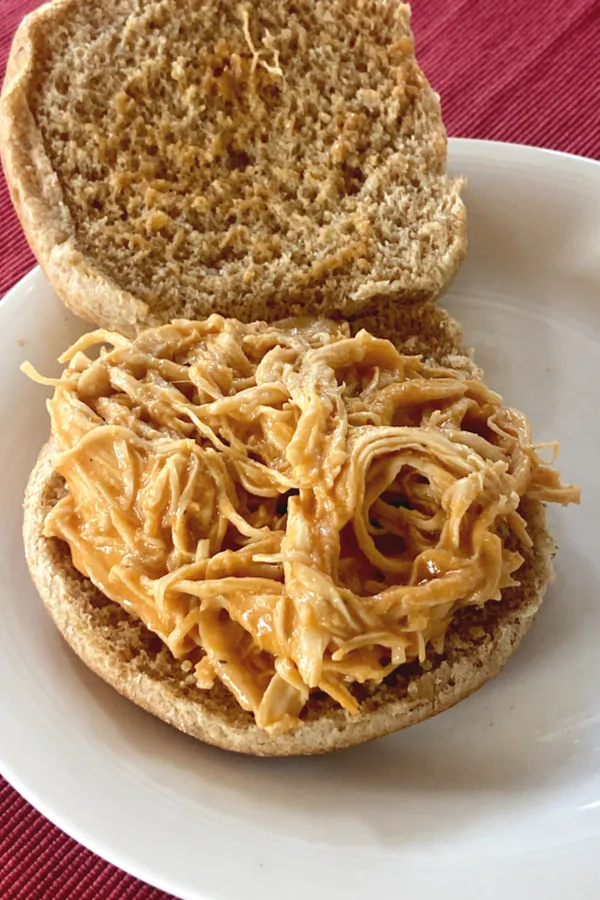 Make a wrap with lettuce, cheese, onions and tomatoes
Add it on top of a bed of lettuce
Toss the shredded meat with pasta
Make a barbecue ranch chicken quesadilla
Add it to your omelet or breakfast scramble
Mix the meat with cooked pasta and add cheese on top and bake it as a casserole
Serve it as a snack with crackers
Make it a dip for parties by mixing it together with a bar of cream cheese
As you can see, the possibilities are endless. And remember, if you have leftovers, you can always freeze them for a quick and easy meal whenever you need one!
Enjoy! Mary

To receive FREE recipes delivered directly to your email, be sure to sign up for the iCookfortwo newsletter. A sign up form is located in the middle of this article. If you have any questions, comments, or want to submit an idea for a recipe for two, feel free to email at mary@icookfortwo.com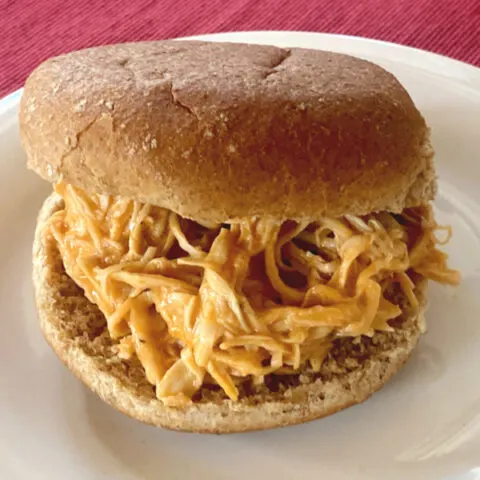 Slow Cooker Barbecue Ranch Chicken
Chicken breasts flavored with barbecue sauce and ranch seasoning and cooked in a slow cooker. The perfect shredded chicken recipe that won't heat up the kitchen.
Ingredients
1-2 Chicken Breasts, boneless/skinless
1 1/2 Tablespoons dry Ranch Seasoning Mix
2 Tbsp. Mayonnaise
2 Tbsp. Heavy Cream
1/2 teaspoon distilled White Vinegar
3/4 cup Barbecue Sauce
Instructions
Place chicken into Instant Pot cooking pot and sprinkle on Ranch seasoning mix.
Whisk together mayonnaise, heavy cream and vinegar and pour over chicken.
Pour barbecue sauce into cooking pot and gently mix the sauce over the top of the chicken, but do not let it go to the bottom of the pot.
Lock on lid and seal the pressure valve. Cook on high pressure for 4 minutes. When the cooking time expires, allow 10 minutes of natural pressure release then carefully move the valve to the venting positin to release the rest of the pressure.
Remove the lid and use two forks to shred the chicken. Place the chicken back in the pot with the liquid and stir.
Let the shredded chicken sit in the warm liquid for 10 minutes before serving. Serve on hamburger buns or as a stand alone main dish.
Notes
Recipe provided by iCookfortwo.com
Nutrition Information
Yield

4
Amount Per Serving
Calories

341
Total Fat

12g
Saturated Fat

4g
Trans Fat

0g
Unsaturated Fat

7g
Cholesterol

107mg
Sodium

878mg
Carbohydrates

20g
Fiber

1g
Sugar

15g
Protein

37g
Nutritional Information is to be used as a general guideline only . Nutritional calculations will vary from the types and brands of the products used.