Cooking bratwurst in an air fryer is a fast and easy way to get dinner on the table without a lot of effort. Simply place the bratwurst in the basket and let them cook.
And in 15 minutes they are ready to be put in a bun and topped with your favorite condiments. It is a great way to get dinner on the table on a busy weeknight or when you don't want to spend time firing up the grill.
Although barbecue season is just around the corner and I love cooking on the grill, there are times that using the air fryer to make dinner makes more sense. For example, if it is raining outside I will skip grilling and make dinner inside.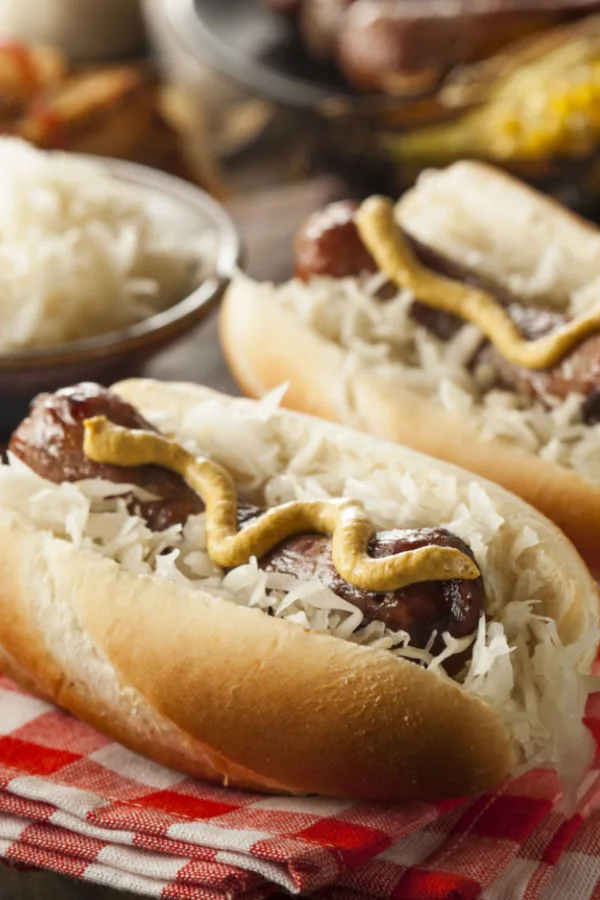 Or if I am in a hurry and don't want to wait for the grill to heat up I will pull out my Air Fryer 360 instead. And of course, if I don't have time standing over a hot skillet or grill turning and attending to the food, cooking in the air fryer is a better option.
However there are some other advantages of using an air fryer to make dinner.
Why Cook Bratwurst In An Air Fryer
1. Faster Cooking Time: Cooking bratwurst in an air fryer can be faster than using traditional cooking methods like grilling or pan-frying. This is because the hot air circulates around the bratwurst, cooking it quicker.
2. Evenly Cooked Bratwurst: Air frying allows the bratwurst to cook evenly on all sides, without the need for flipping. This results in a perfectly cooked bratwurst with a crispy outer layer.
3. Healthier Option: When pan frying bratwurst oil is often added to the pan to help brown the meat. However when cooking it in an air fryer you can skip the oil all together.
4. Convenience: Air fryers are easy to use and require minimal attention during the cooking process. This makes them a convenient option for cooking bratwurst, especially if you're short on time or don't want to spend too much time in the kitchen.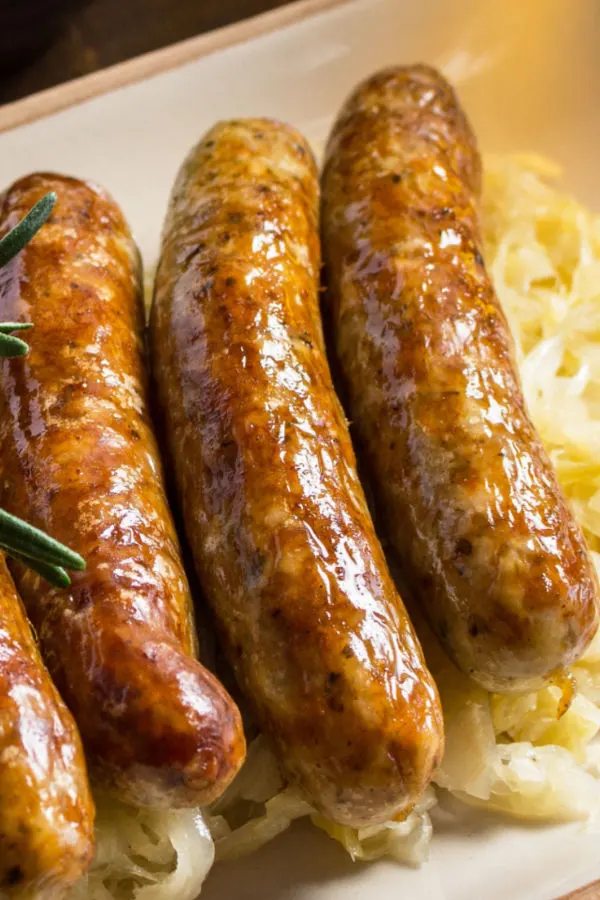 Bratwurst vs. Sausage
With a lot of different sausage products at the market you may be wondering what the difference is between bratwurst and sausage.
Bratwurst is actually a type of sausage that originated in Germany. It is a specific type of fresh sausage that is typically made from ground pork and veal, and seasoned with a blend of spices that typically includes salt, pepper, nutmeg, and sometimes ginger or caraway seeds.
On the other hand, "sausage" is a broader term that refers to any type of ground meat mixture that is typically encased in a casing or skin. Sausages can be made from a variety of meats, including pork, beef, chicken, and even game meats like venison or elk.
In addition to the different varieties of meat sausage links can be flavored with many different spices, herbs and even have fruit and cheese added to the meat mixture. Therefore you can say that bratwurst is sausage, but not all sausage are bratwurst.
However you can cook both bratwurst and sausage by pan-frying, grilling, baking, and of course, in the air fryer.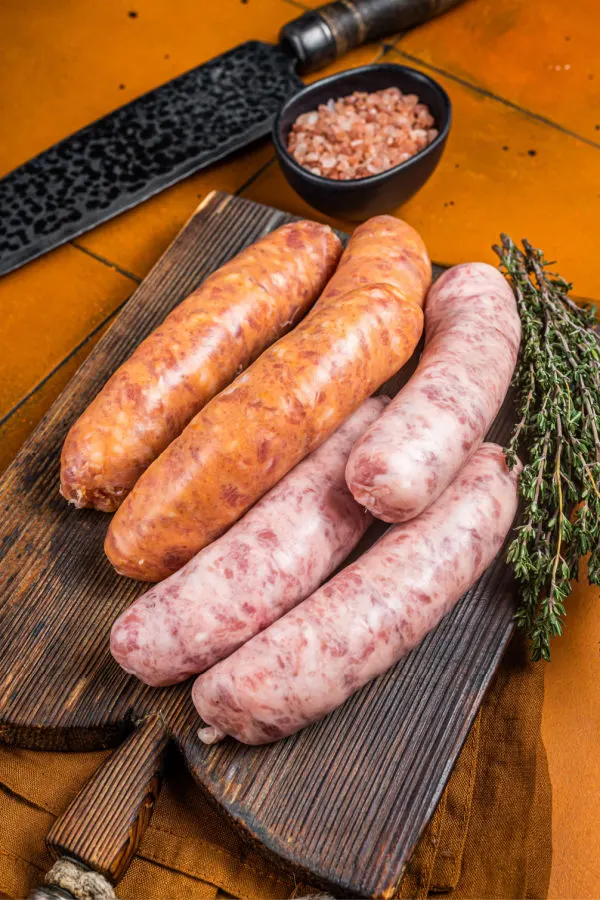 Condiments For Bratwurst
Once you have the bratwurst cooked and ready to eat, it is time to add your favorite condiments to the top. There are some classic condiments that pair well with bratwurst, however there may be a few toppings that you haven't considered.
Below I have listed some of my favorite additions to serve with bratwurst.
Mustard: A classic condiment for bratwurst, yellow or spicy brown mustard is a great choice. You can also add Dijon mustard or Hot Pepper Mustard for added flavor.
Sauerkraut: This tangy, fermented cabbage is a popular topping for bratwursts.
Ketchup: Some people like to put ketchup on their bratwursts, but this is less common than mustard.
Onions: Grilled or caramelized onions are a great addition, providing a sweet and savory flavor.
Peppers: Sautéed peppers are a classic condiment as well. They pair well with the onions for added crunch and earthy flavor. If you want a little sweetness, add red bell peppers instead of just using green peppers.
Relish: Sweet or dill relish can add a tangy, crunchy texture to the bratwurst..
Cheese: Melted cheese, such as cheddar or Swiss, can be a delicious topping.
Hot sauce: If you like spicy foods, consider adding a few dashes of hot sauce on top for a little kick.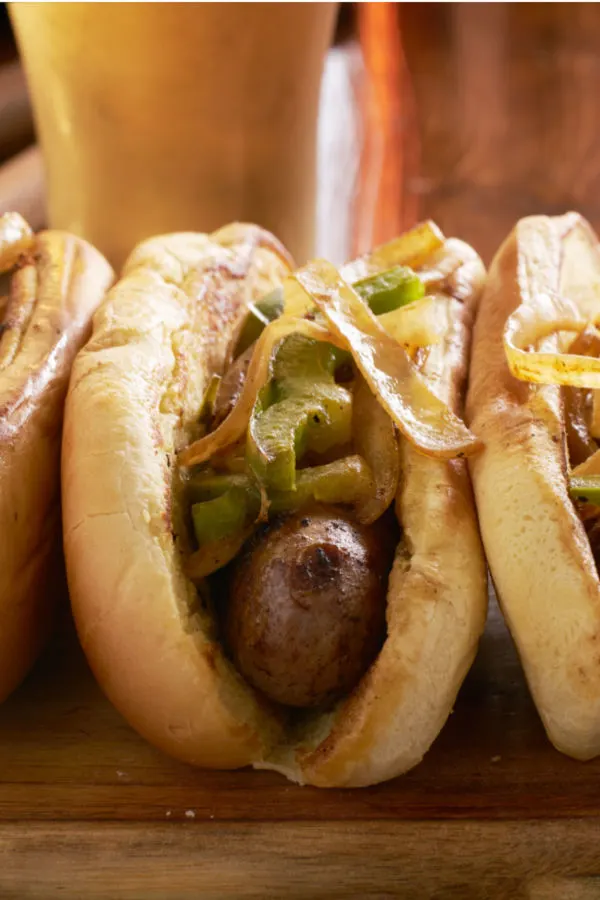 How To Store & Reheat Bratwurst
If you made a few extra bratwurst to enjoy later, you can easily store them in the refrigerator. Do this by letting them cool to room temperature, then place them in an air tight container and store in the refrigerator for up to 5 days.
Then use your air fryer to reheat the bratwurst. Start by preheating the air fryer to 350°F (177°C). Then place the bratwurst in the air fryer basket.
Heat the bratwurst for approximately 5-7 minutes or until it's heated through.
You can also reheat the bratwurst in the microwave. However, before doing so poke the surface of the brats a few times with a fork or sharp paring knife.
Then cover the bratwurst with a damp paper towel and reheat in 30 seconds increments until warmed through.
Air Fryer Bratwurst Recipe
*A printable recipe card is located at the bottom of this article which contains the specific measurements, temperatures and cook times. However, continue reading below to learn about more helpful tips about this specific recipe.
INGREDIENTS
Uncooked bratwurst
Hot dog or sub buns
Condiments of your choice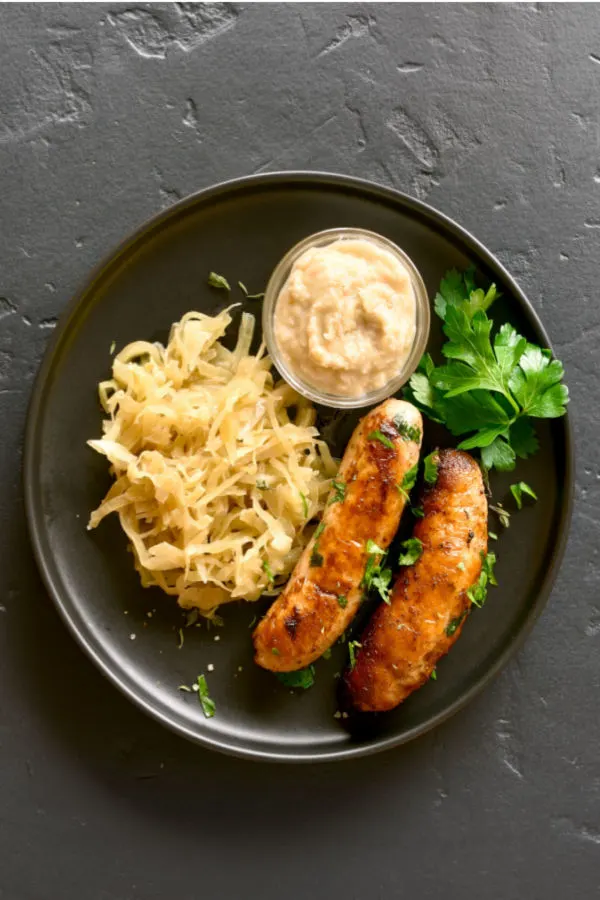 INSTRUCTIONS
Preheat the air fryer to 360°F (182°C). Even if your brand of air fryer doesn't have a preheat setting, let the air fryer run for 4-5 minutes at the desired temperature.
Place the bratwurst in a single layer in the air fryer basket. There is no need to pierce them with a fork.
Cook them for 8 minutes. Then flip and cook for an additional 5-6 minutes or until they reach an internal temperature of 165°F (74°C).
Serve them warm in buns and add condiments as desired.
More Popular Air Fryer Recipes
Enjoy! Mary

To receive FREE recipes delivered directly to your email, be sure to sign up for the iCookfortwo newsletter. A sign up form is located in the middle of this article. If you have any questions, comments, or want to submit an idea for a recipe for two, feel free to email at mary@icookfortwo.com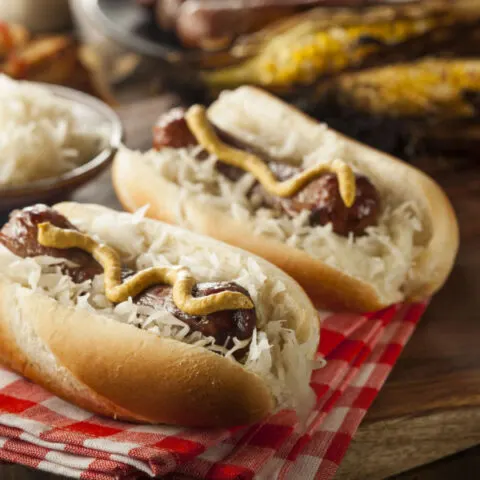 Air Fryer Bratwurst
Cooking bratwurst in the air fryer is quick and easy to do. Throw them in the air fryer basket and in less than 15 minutes they are ready. Top with your favorite condiments and enjoy!
Ingredients
2 uncooked bratwurst
2 hot dog buns
Condiments of your choice: mustard, sauerkraut, onions, etc.
Instructions
Preheat the air fryer to 360°F (182°C).

Place the brats in a single layer in the air fryer basket. Do not pierce them.

Cook them for 8 minutes, then flip and cook for an additional 5-6 minutes or until they reach an internal temperature of 165°F (74°C)

Serve in buns and add condiments as desired.
Notes
Recipe provided by iCookfortwo.com
Nutrition Information
Yield

2
Amount Per Serving
Calories

428
Total Fat

27g
Saturated Fat

9g
Trans Fat

0g
Unsaturated Fat

16g
Cholesterol

63mg
Sodium

979mg
Carbohydrates

29g
Fiber

1g
Sugar

3g
Protein

17g
Nutritional Information is to be used as a general guideline only . Nutritional calculations will vary from the types and brands of the products used.