These Garlic Knots are not only delicious and visually appealing, but they are also very easy to make. In fact, with just a can of standard, refrigerated biscuit dough you can make this mouth-watering bread recipe to serve with your favorite dinner.
Although most restaurants serve bread, or a form of bread while dinner is being made, I prefer to save mine to eat with the main course. That is because, in my opinion, there is nothing better than dipping the bread in the sauce on your plate after you eat something like Meatloaf Muffins or spaghetti.
In addition, if I began eating these rolls prior to dinner, I wouldn't have enough self-control to stop. The rolls are light and fluffy and flavored with an amazing garlic butter spread that is absolutely irresistible.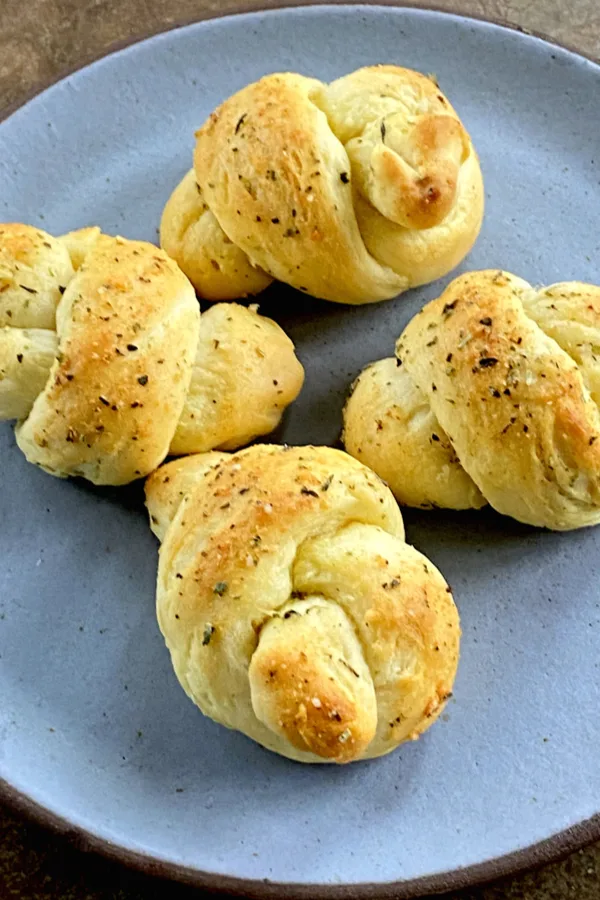 And although they look rather fancy with the dough being knotted, they couldn't be easier to make! Simply cut a biscuit round in half then roll each half into a rope and knot it. It is that easy!
Then spread an easy to make, homemade garlic butter sauce on top and place them in the oven. Once they have turned nice and golden brown, pull them out of the oven and mop them one more time with the remaining garlic butter spread.
What you end up with are addicting garlic knots that look so impressive that no one will even know how easy they are to make!
Other Refrigerator Biscuits Recipes
As much as I love this recipe, there are other ways to transition refrigerator biscuit dough into some amazing recipes. In fact, I can't tell you the last time that I actually made traditional biscuits with the dough.
Instead I use the biscuits as a base for breakfast casseroles or turn them into easy breakfast, snack, appetizer and even dinner recipes. Below I have included some of my favorite, non-traditional ways to use a tube of refrigerated biscuit dough.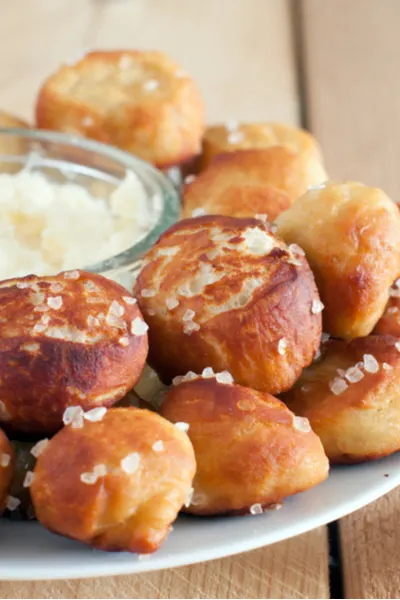 Although you can now purchase a smaller can of biscuit dough with just 4 biscuits, I still find myself buying the full-size container. Then I can use the remaining biscuits to make another delicious recipe!
Within the next few weeks I will be sharing a Barbecue Cheeseburger Pie recipe that I have been recently experimenting with. And with just a couple of taste tests, my husband has requested this recipe to be a regular on the menu rotation. It is that good!
But in the mean time, let me show you how easy it is to make this recipe. Detailed, step by step instructions are included below.
Easy Garlic Knots Recipe
*A printable recipe card is located at the bottom of this article which contains the specific measurements, temperatures and cook times. However, continue reading below to learn about more helpful tips about this specific recipe.
INGREDIENTS
Refrigerated buttermilk biscuits (from a tube)
Unsalted butter, melted
Fresh grated Parmesan cheese
Garlic powder
Dried parsley flakes
Dried oregano
Salt
INSTRUCTIONS
The first step in making these easy Garlic Knots is to preheat the oven to 400°F (200°C). Then line a baking sheet with parchment paper, a silicone baking mat or spray with non-stick cooking spray.
*If you have not yet purchased a silicone baking mat, I highly suggest that you do. I was hesitant to jump on the band wagon to purchase one, fearing it would be just another kitchen item that rarely gets used.
However, I can't tell you how much I love using one. Not only does it make clean up a breeze, but I have also saved a lot of money not purchasing disposable rolls of parchment paper.
Once I purchased these Silicone Baking Mats, I simply cut them to make them fit perfectly in my baking sheets. And use them whenever a recipe calls for parchment paper. It has truly been a worth-while purchase!
Now back to the recipe….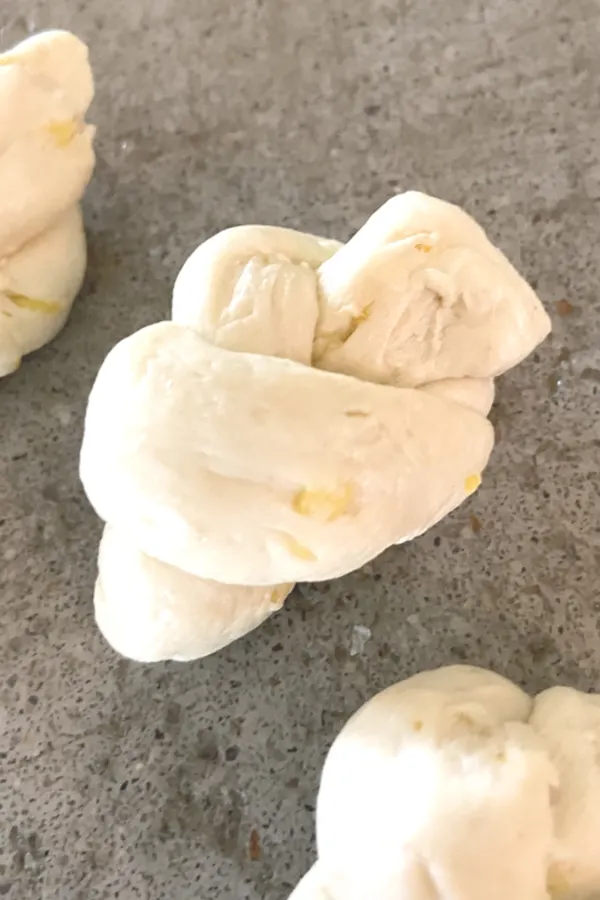 How To Make Garlic Knots
Cut each biscuit in half, making 8 pieces. Then working one at a time, roll each piece with the palm of your hand to make a rope that is about 5 inches long and 1/2 inch thick.
Pick up the rope and tie it into a single knot. If the ends are long, tuck them under the center of the knot. then set each one on the prepared baking sheet. Set the baking sheet aside while you prepare the garlic butter, Parmesan sauce.
In a small bowl, whisk together the melted butter, Parmesan cheese, garlic powder, dried parsley flakes, dried oregano and salt. Then use a pastry brush to brush each knot, using no more half of the garlic butter mixture.
Place the baking sheet in the preheated oven and bake until golden brown, about 8-10 minutes. Reserve the remaining garlic butter sauce for later use.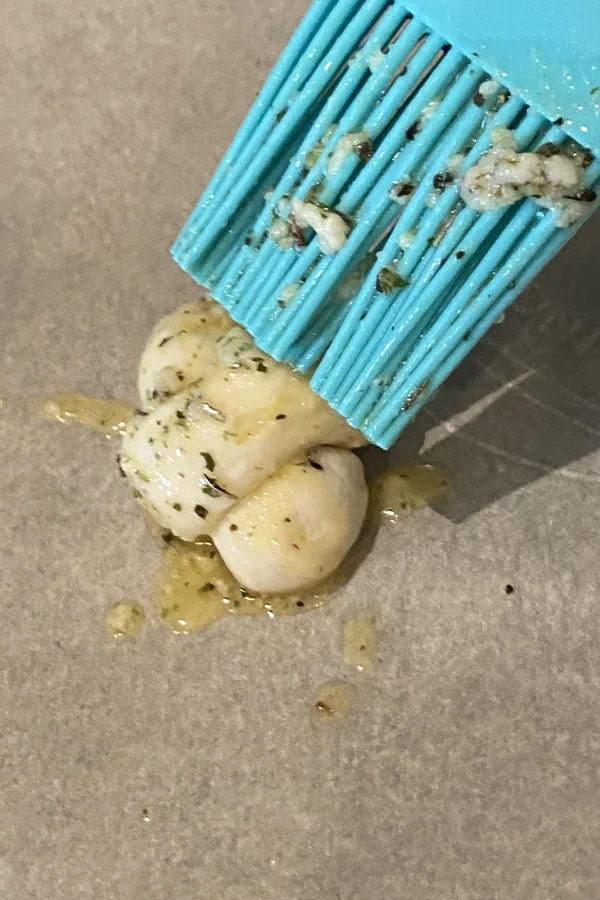 When the garlic knots are nice and golden brown, remove them from the oven. Then immediately brush the remaining garlic butter mixture over the top and each end of the knots.
Serve warm to compliment your favorite meal or as an appetizer or snack with warm marinara sauce for dipping.
Frequently Asked Questions
1. How Do I Store Leftovers?
Store leftover garlic knots in a sealed container at room temperature. However, before storing be sure that the bread has cooled to room temperature.
This is because the warm bread will produce condensation inside the container making them too wet. They will also go bad quicker if kept in a hot, moist environment.
2. Can I Double The Recipe?
Although this recipe is written to make 8 garlic knots, you can certainly make more if desired. Instead of using only 4 refrigerator biscuits, use an entire tube.
Then double the garlic butter sauce ingredients and you will have a total of 16 garlic knots to share with family and friends!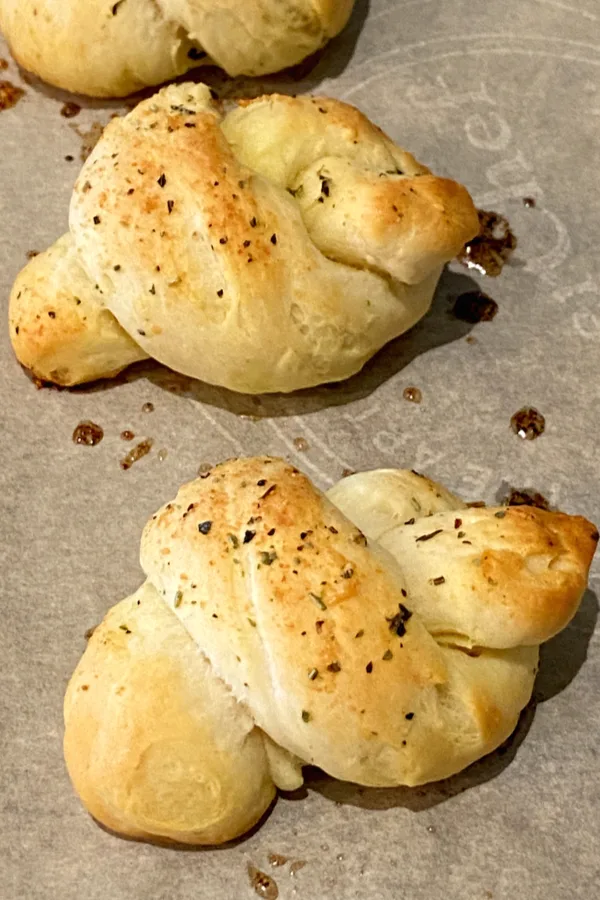 3. What Is The Best Way To Reheat The Rolls?
If you want to serve the leftover rolls warm instead of cold, simply place them in the oven at 300°F (150°C) for 5-10 minutes.
Alternatively, an easy way to reheat the garlic knots is to place them in the microwave for 10 seconds on high power. They will be nice and warm and ready to eat!
Enjoy! Mary

To receive FREE recipes delivered directly to your email, be sure to sign up for the iCookfortwo newsletter. A sign up form is located in the middle of this article. If you have any questions, comments, or want to submit an idea for a recipe for two, feel free to email at mary@icookfortwo.com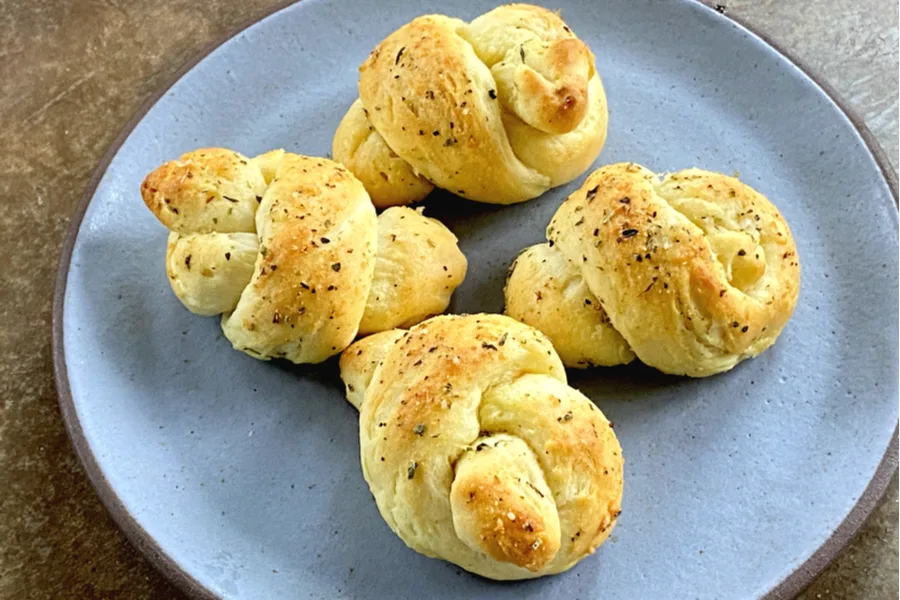 Easy Garlic Knots
Quick and easy garlic knots made from a can of refrigerator biscuit dough. The perfect appetizer, snack, or bread recipe for any occasion.
Ingredients
4 refrigerated buttermilk biscuits (from a tube)
2 TBSP unsalted butter, melted
1 tablespoon fresh grated Parmesan cheese
1/2 teaspoon garlic powder
1/4 teaspoon dried parsley flakes
1/4 teaspoon dried oregano
1/8 teaspoon salt
Instructions
Preheat oven to 400°F (200°C). Line a baking sheet with parchment paper, a silicone baking mat or spray with non-stick cooking spray.
Cut each biscuit in half, making 8 pieces. Roll each piece into a rope about 5 inches long, and 1/2 inch thick. Tie each piece into a knot, tucking the ends under. Set on the prepared baking sheet.
In a small bowl, whisk together butter, Parmesan, garlic powder, parsley, oregano and salt. Use a pastry brush to brush each knot with half of the butter mixture.
Place the baking pan in the preheated oven and bake until golden brown, about 8-10 minutes.
When the garlic knots come out of the oven, brush with remaining butter mixture. Serve immediately.
Serve as a bread to compliment your favorite meal or as an appetizer or snack with warm marinara sauce.
Notes
Recipe provided by iCookfortwo.com
Nutrition Information
Yield

8
Amount Per Serving
Calories

135
Total Fat

8g
Saturated Fat

3g
Trans Fat

0g
Unsaturated Fat

4g
Cholesterol

9mg
Sodium

219mg
Carbohydrates

14g
Fiber

0g
Sugar

1g
Protein

2g
Nutritional Information is to be used as a general guideline only . Nutritional calculations will vary from the types and brands of the products used.