These Easy Meatloaf Muffins have become one of my favorite dinner recipes when there is just the two of us.
With just 3 ingredients, they are not only easy to prepare, but they taste absolutely delicious.
It is a true comfort food dish that doesn't require a ton of ingredients. Simply mix the 3 ingredients together and place them in the muffin pan.
And in less than 30 minutes, dinner will be on the table! It has become a regular in our house, and I am sure it will be in your house as well!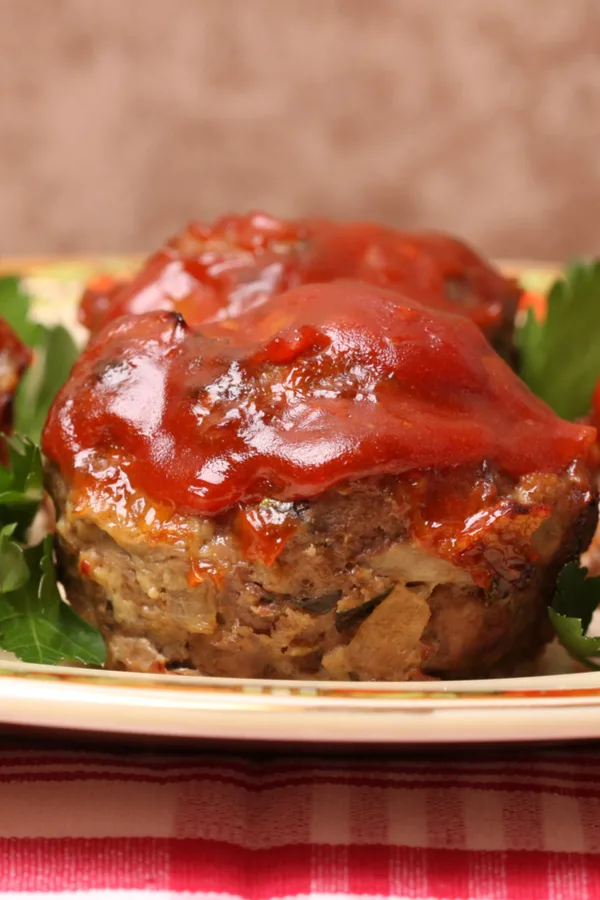 Easy Meatloaf Muffins
INGREDIENTS
Ground Beef
Boxed Stuffing Mix
Milk
1. Lean Ground Beef
Standard meatloaf is made with ground beef. I prefer to use lean ground beef that has a 90/10 lean to fat ratio. However, you could also make this recipe using ground turkey or chicken.
Although, because those types of ground meat have a lower fat content and tend to dry out quicker, you may need to add a little extra milk to the mixture.
2. Boxed Stuffing Mix
Classic boxed stuffing mix is the binding agent in this recipe. And because a full box of stuffing mix is way too much to eat for two people, I always have extra on hand.
In fact, after I made my Crock Pot Chicken & Stuffing Casserole this week, I had half of the package leftover. Therefore when I was looking for something to make for dinner later in the week, this recipe came to mind.
You can use any flavor of stuffing mix that you prefer to make meatloaf muffins. I tend to always have boxed Chicken Stuffing mix in my pantry., so that is what I use most often.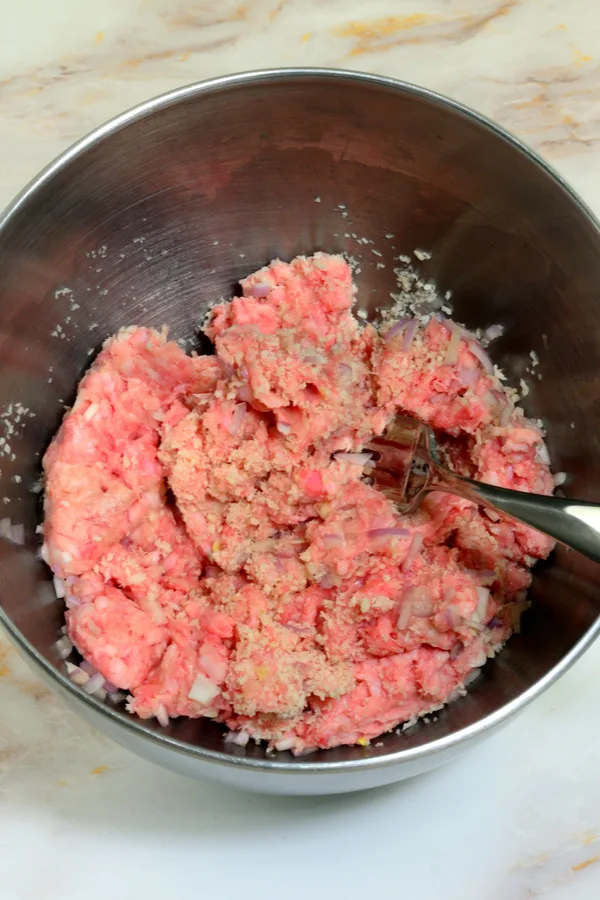 However, you can also turkey, herb seasoned or cornbread stuffing mix as well. And you can skip the name brand boxed mixes.
Generic store bought brands are just as good because it is being used as a binder and not served as a stand alone side dish.
3. Milk
You can use whole milk, low-fat milk or even skim milk for this recipe. In addition, you can substitute any plant-based milk variety as well.
I have used both dairy and almond milk and the meatloaf muffins turn out perfect every time.
Optional Ingredient
Although this recipe only requires the 3 ingredients listed above, you can also add ketchup or barbecue sauce to the top of the meatloaf to add more flavor.
Simply spread the sauce on top of each muffin before or after baking. If you do it before you place the muffins in the oven the sauce will thicken and caramelize on top.
If you add the ketchup or barbecue sauce after they come out of the oven, the flavor will be similar to when you add it on top of a hamburger.
However, I prefer to serve the sauce on the side for dipping. This way I know that each bite will include some of that delicious sauce.
The choice of whether you want to add the sauce on top, on the side, or not at all is totally based on your personal preference.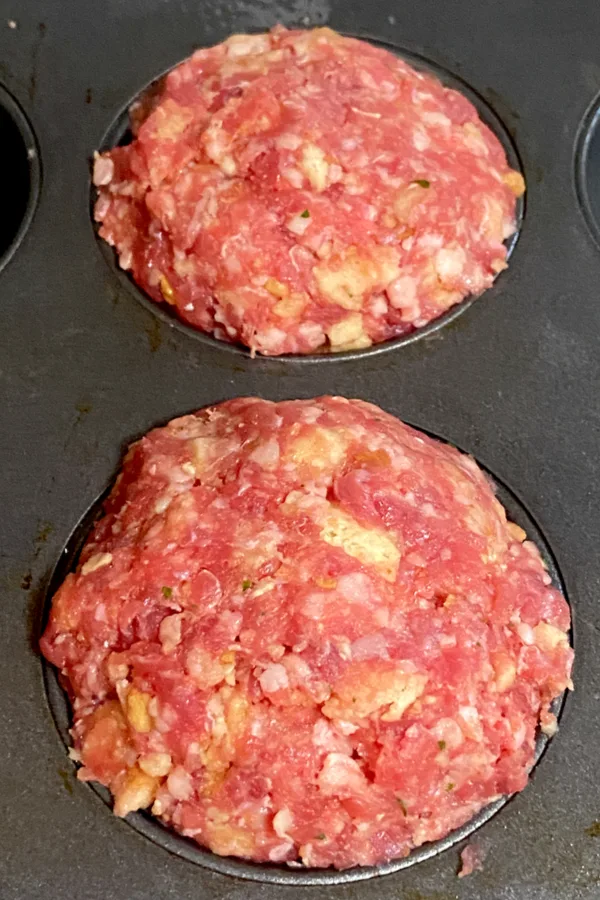 COOKING INSTRUCTIONS
The first step in making these 3 Ingredient Meatloaf Muffins is to prepare a standard size muffin tin. Spray two holes of a 6-hole muffin tin with non-stick cooking spray and set aside.
If you don't have a 6 hole muffin tin, a standard 12 hole muffin tin will work too. However, be sure to place the meat in two holes that are side by side for even baking.
Set the muffin tin aside. Then preheat the oven to 350°F (177°C).
In a medium size bowl add the ground beef, boxed stuffing mix and milk. Use a fork to combine the ingredients until just incorporated.
It is important to not over mix. Otherwise the meatloaf will turn out dense and tough to chew.
Once combined, divide the mixture in half. Then gather one half of the mixture and lightly form the meat together in the palm of your hand into a large ball.
Place the meat into one hole that has been sprayed with the non-stick cooking spray of the muffin pan. Form the meatloaf muffin by mounding the meatloaf slightly over the top of each cup.
Repeat the process to form the other muffin. Next, brush the tops with ketchup or barbecue sauce if desired.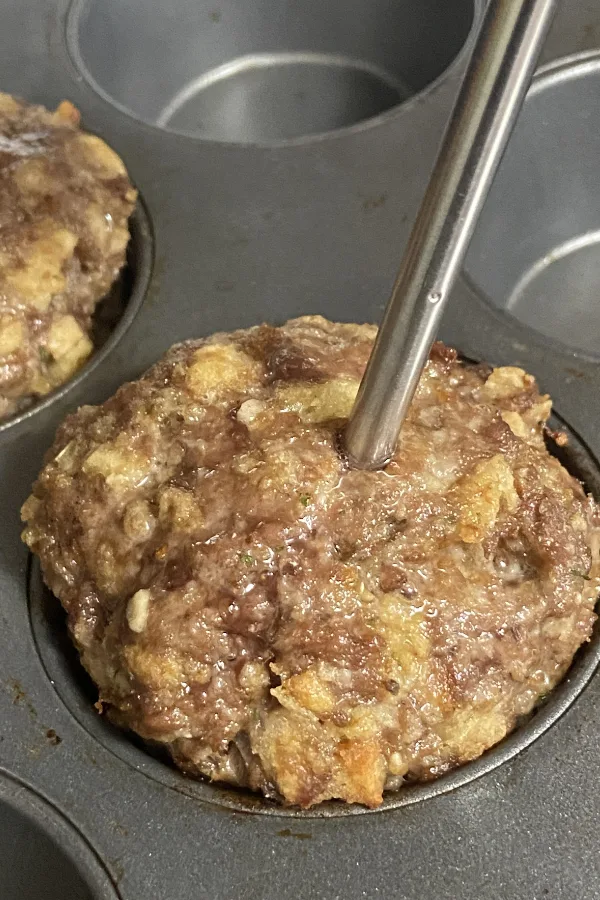 Bake Time Required
Place the muffin tin in the preheated oven and bake for 25 minutes. Check the internal temperature of the meatloaf and continue to cook until the internal temperature reaches 155°-160°F (68°C – 71°C) when checked by a digital food thermometer.
Remove the muffin tin from the oven and let the pan sit for 5 minutes before serving. While the meatloaf is resting, you can spread the ketchup or barbecue sauce on top if desired.
Then run a knife around the edge of the muffin cup to release any stuck bits. Carefully use a fork to remove each individual meatloaf out of the muffin tin.
Serve warm with additional ketchup or barbecue sauce on the side if desired.
What To Serve With Meatloaf Muffins
If you are looking for a great side dish recipe to serve with meatloaf, here are some of my favorites recipes.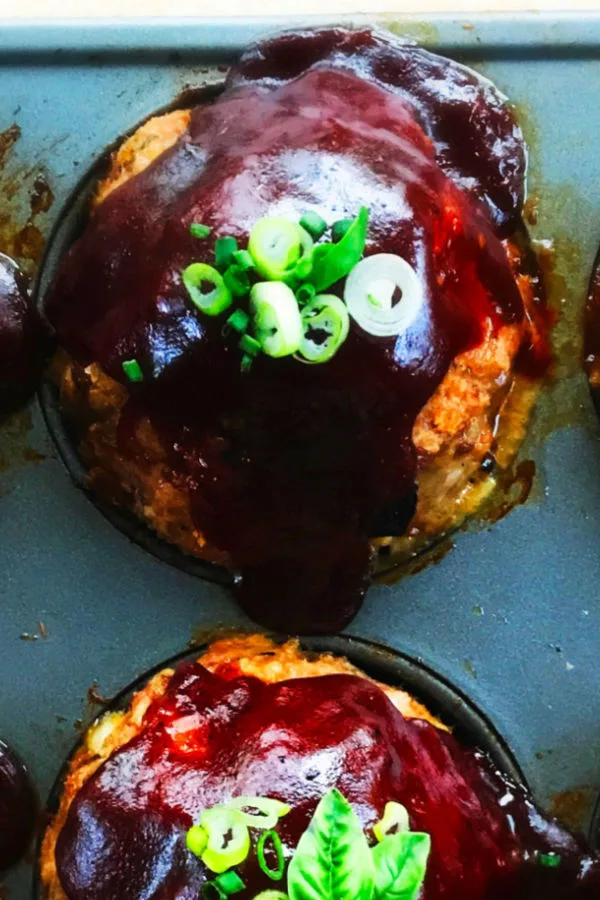 And if you purchased a pound of ground beef and are left with a half of pound after making this recipe why not try some of these other delicious recipes:
Enjoy! Mary

To receive FREE recipes delivered directly to your email, be sure to sign up for the iCookfortwo newsletter. A sign up form is located in the middle of this article. If you have any questions, comments, or want to submit an idea for a recipe for two, feel free to email at mary@icookfortwo.com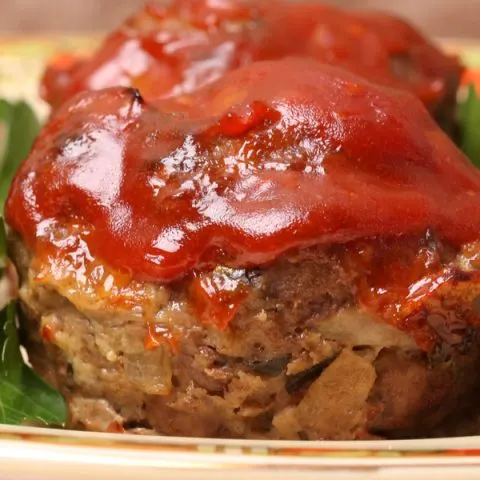 Easy Meatloaf Muffins For Two
An easy and delicious meatloaf recipe that is made with just 3 simple ingredients. The perfect amount for two people!
Ingredients
1/2 pound lean ground beef
2 ounces boxed stuffing mix (1 cup)
1/8 cup milk
Optional
Ketchup or Barbecue sauce
Instructions
Spray a muffin tin with non-stick spray and set aside. Preheat oven to 350°F (177°C).
Add the ground meat, stuffing mix and milk to a bowl. Mix until just incorporated Do not over mix.
Evenly divided the meat into the prepared muffin pan, mounding the meat loaf slightly over the top of each cup. Brush the tops with Ketchup or barbecue sauce if desired.
Place in the preheated oven and bake for 25 minutes. Cook until the internal temperature reaches 155°-160°F (68°C - 71°C)
Remove from the oven and let the pan sit for 5 minutes before serving.
Serve warm.

Notes
Recipe provided by iCookfortwo.com
Nutrition Information
Yield

2
Serving Size

1
Amount Per Serving
Calories

361
Total Fat

17g
Saturated Fat

6g
Trans Fat

1g
Unsaturated Fat

9g
Cholesterol

102mg
Sodium

493mg
Carbohydrates

15g
Fiber

0g
Sugar

9g
Protein

34g
Nutritional Information is to be used as a general guideline only . Nutritional calculations will vary from the types and brands of the products used.