Hash Brown Potato Soup is a must-make recipe during the winter months, especially when you're looking for something warm and filling.
Best of all, this recipe is extremely simple, and it will only take you a couple of minutes to throw everything together. The ingredients are easy to find and the instructions are so simple that you will be making this soup over and over again.
Although many people serve soup as the first course to a meal, I like this soup to be the star of dinner. It is thick, filling, and hearty enough to leave your belly satisfied for hours!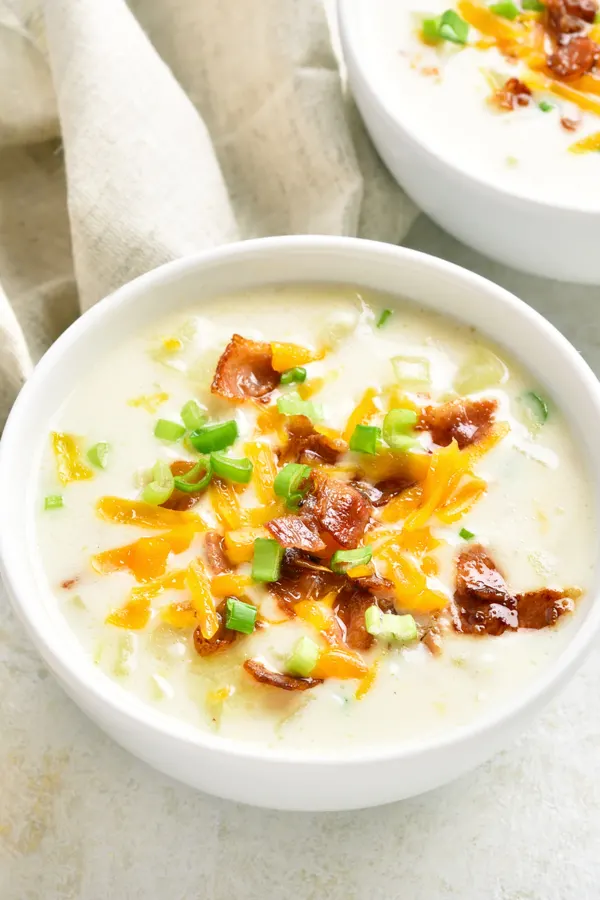 But if you don't think that this soup alone will be enough for a complete meal, feel free to add in a few extra ingredients. Adding a little cooked ground beef, shredded chicken or even pan-seared veggies will take this soup to the next level.
Although, I prefer to eat this soup without any major additions, I do like to load it up with some of my favorite toppings. Chopped bacon, shredded Cheddar cheese and diced green onions are the perfect toppings that adds the familiar flavors of a loaded baked potato.
As you take that first taste, you will immediately realize that the flavors marry beautifully, creating a hearty meal that will help warm your body during those cold and bitter days.
But what makes this potato soup different from the others is that it doesn't require you to peel and dice fresh potatoes. Instead, frozen hash browns are the main ingredient in this soup recipe. It's a perfect way to use up those extra hash browns that are sitting in your freezer after making Cheesy Hash Brown Casserole.
Hash Brown Potato Soup Recipe
*A printable recipe card is located at the bottom of this article which contains the specific measurements, temperatures and cook times. However, continue reading below to learn about more helpful tips about this specific recipe.
INGREDIENTS
As I mentioned above, the recipe requires simple and widely accessible ingredients that are probably lying in your refrigerator right now. Below is a list of the ingredients that you will need to make this soup:
Extra virgin olive oil
Diced onion
Shredded carrots
Garlic clove, minced
Flour
Chicken broth
Water
Frozen, shredded hash browns
Garlic salt
Ground black pepper
Bacon, cooked and crumbled
Heavy cream or half and half
Shredded Cheddar cheese
Garnish Ingredients, optional
Cooked bacon
Diced green onions
Sour Cream
Shredded Cheddar cheese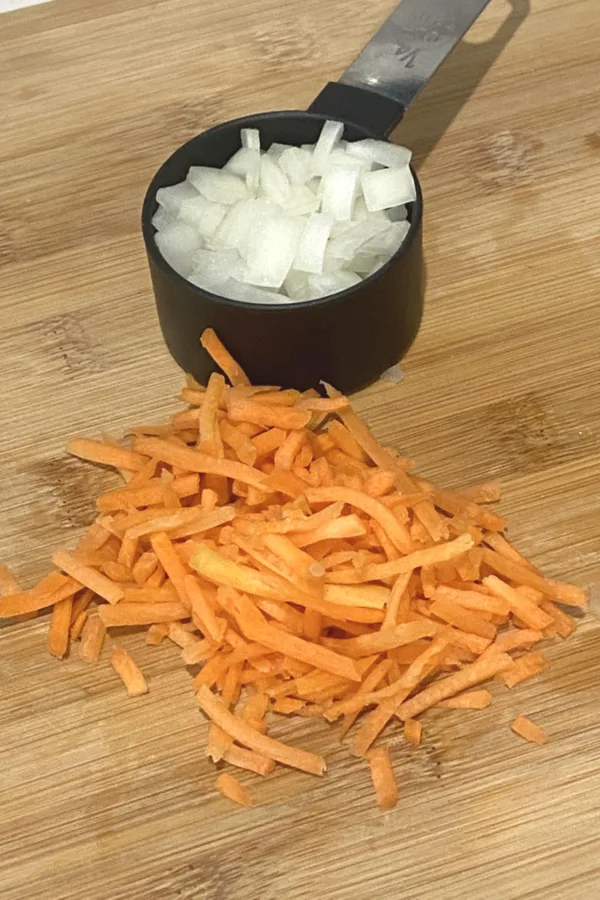 INSTRUCTIONS
The first step in making hash brown potato soup is to take a large stockpot, and place it over medium-high heat. Next, add the extra virgin olive oil.
Once the oil is hot, add the shredded carrots and onions to the pot. Although I prefer to purchase pre-shredded carrots, I still cut them into small strands for the ease of eating.
Once you've added the veggies, saute them until the onions become translucent and the carrots begin to soften. This process should take approximately 5 minutes.
Then add the minced garlic to the pot and cook for one minute, or until fragrant. You don't want the garlic to get too dark because the taste will become bitter.
Next, add 1 1/2 cups of broth to the pan and use a wooden spatula to remove any brown bits that are stuck on the bottom of the pan. This will deglaze the pan, allowing the soup to cook evenly and gain more flavor.
Add the flour to the remaining broth and whisk until smooth. Then pour the mixture into the pot and stir.
Bring the pot to a simmer and then add the water and the frozen hash browns. Then stir the ingredients until the frozen hash browns break up and begin to cook.
Next, add the garlic salt, a dash of black pepper, and the cooked and crumbled bacon. Then stir and continue to cook the soup for 15 minutes or when the potatoes become soft.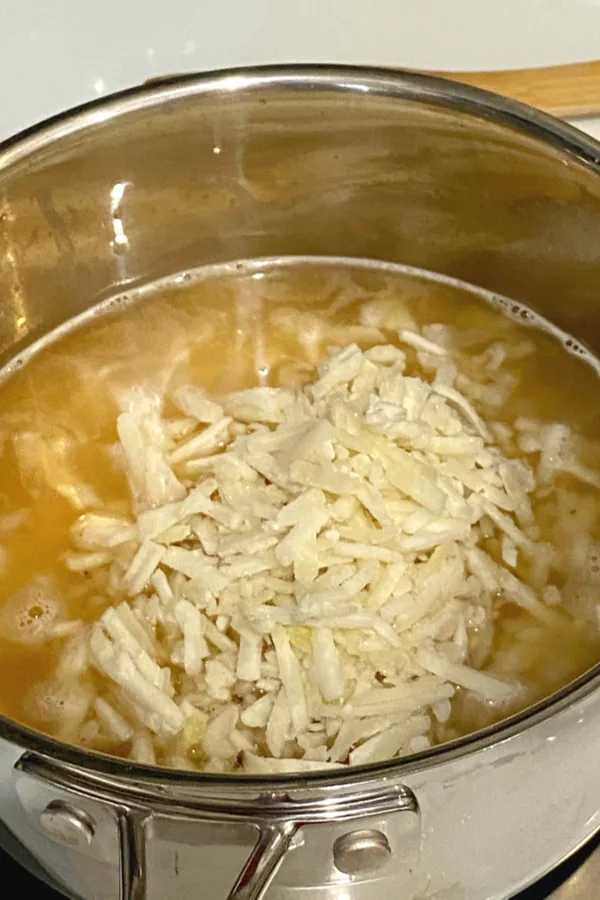 Be Sure To Stir
Remember, it is important to stir often because you don't want the potato stands to sink to the bottom of the pot and stick and/or burn.
Finally, add in your heavy cream and the cheese while the pot is still on the heat source. Continue to simmer for an additional 10 minutes.
Serve warm and top your hash brown potato soup with your favorite garnishes. I suggest shredded cheese, diced green onions and additional crumbled bacon.
Helpful Tips and Tricks
Although this recipe is pretty straight forward, below I have included some helpful tips and tricks to making this soup turn out perfect every time.
1. The fastest and easiest way to make crumbled bacon is to cut it prior to cooking. Use scissors or a sharp knife to cut the bacon into small pieces.
Then place them in your skillet and they will cook up in no time. Simply drain the bacon bits on paper towels and they are ready to be added to your soup.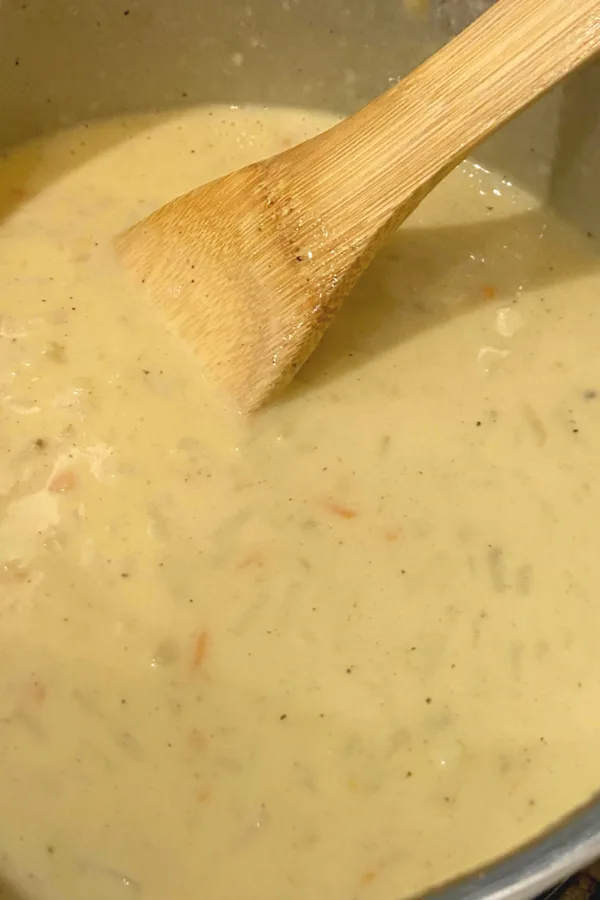 2. If you like soup that has a completely smooth texture, then use an immersion blender to puree the soup while it is still in the pot.
Alternatively, you could also transfer the cooked soup to a blender and pulse until the desired consistency is reached. However, be careful to fill the container only half full so that the hash brown potato soup doesn't explode out of the top.
3. If you like buttery potato soup, add a few tabs of butter to the soup right before serving. Stir the soup one final time, serve and top with the additional garnishes as desired.
Storing Instructions
If you have any leftover soup, you can store it in the refrigerator for up to 5 days in a closed container. However, be sure that the soup has completely cooled before placing it in the fridge.
Although, I would not recommend storing this soup in the freezer. Because the soup is dairy-based it can separate and lose its creamy consistency once frozen.
Enjoy! Mary

To receive FREE recipes delivered directly to your email, be sure to sign up for the iCookfortwo newsletter. A sign up form is located in the middle of this article. If you have any questions, comments, or want to submit an idea for a recipe for two, feel free to email at mary@icookfortwo.com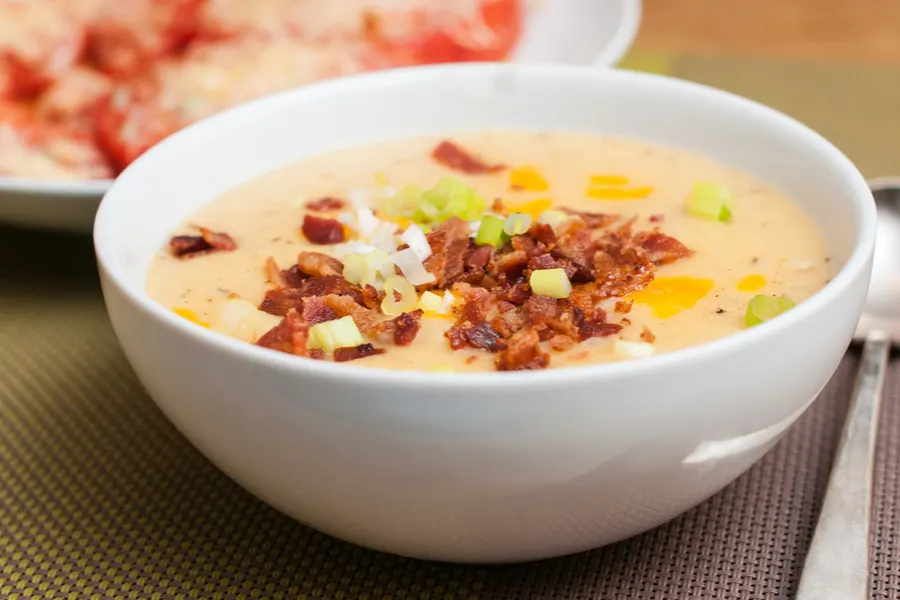 Hash Brown Potato Soup Recipe
Creamy and delicious loaded potato soup made with frozen hash browns. A true comfort meal made easy!
Ingredients
1 TBSP. extra virgin olive oil
1/4 cup diced onion
1/4 cup shredded carrots, diced
1 clove garlic, minced
1 1/2 TBSP. flour
2 cups chicken broth
1/2 cup water
10 oz. frozen, shredded hash browns
1 teaspoon garlic salt
1/2 teaspoon ground black pepper
3 strips of bacon, cooked
1/2 cup heavy cream or half and half
1 cup of shredded Cheddar cheese
Garnish Options
Cooked bacon
Diced green onions
Sour Cream
Shredded Cheddar cheese
Instructions
In a large stock pot over medium-high heat, add the oil. Once hot add the diced onions and carrots. Saute for 5 minutes or until the onions become translucent. Add the minced garlic and cook for 1 minute.
Immediately add 1 1/2 cups of broth to the pan and scrap the bottom of the pot to remove any browned bits. Add the water and hash browns and stir.
Add the flour to the remaining broth and whisk until smooth. Then pour the mixture into the pot and stir.
Add the garlic salt, black pepper, and crumbled bacon and stir. Bring the pot to a boil and then reduce heat to a simmer. Continue to cook for 15 minutes or until the potatoes are tender, stirring frequently to prevent the potatoes from sticking to the bottom of the pot.
Stir in the heavy cream and cheddar cheese and heat for 5-10 minutes, stirring frequently.
Serve warm and garnish with preferred toppings.
Notes
Recipe provided by iCookfortwo.com
Nutrition Information
Yield

4
Amount Per Serving
Calories

699
Total Fat

54g
Saturated Fat

23g
Trans Fat

1g
Unsaturated Fat

26g
Cholesterol

118mg
Sodium

1981mg
Carbohydrates

30g
Fiber

3g
Sugar

3g
Protein

25g
Nutritional Information is to be used as a general guideline only . Nutritional calculations will vary from the types and brands of the products used.